Join Us Saturday April 28th, 2012
Maui, Hawaii
OluKai and Suzie Cooney host a Free 3 Mile "Practice" Fun Paddle
Paia Youth and Cultural Center 9AM
( no preregistration required )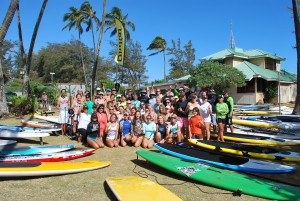 In preparation for the 4th Annual OluKai Ho'olaule'a, and the Fun Paddle Division, join us again for the 3 mile "practice" fun paddle, mini downwinder that everyone can enjoy. Build your water confidence. Anything paddle powered can enter as this is not a competition.  The start is at the Paia Youth and Cultural Center and will finish at the lifeguard tower at Kahana Beach Park.  ( Details below )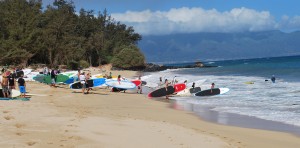 Here is a link to one of last years ( 2011 )second practice paddle.
All ages, all levels of paddlers will enjoy an escorted practice paddle with me and other safety folks. This is a great opportunity for those who desire to experience Maui's N. shore in a fun and safe manor. Here's a video from one of last year's practice paddles:  ( 2o11 ) 
So, grab your stand up paddle board, kayak, 4 man, 6 man, prone paddle board, canoe or anything you can paddle! This is your chance to get ready, test your paddle skills, meet some new friends and join the OluKai ohana. The paddle will take the fastest paddler approximately 30 minutes or less to complete and the average time will be about and hour. Take your time, soak in the sun and paddle with your friends. This is not a race, paddle at your capacity.
PRACTICE  3 MILE FUN PADDLE:
DATE: Saturday, April 28, 2012
WHERE: Start –  28 Hana Hwy:  Paia Bay Cultural and Youth Center   Finish: Kanaha Beach Park Lifeguard Tower
TIME:  Start time is 9:00am  ( please arrive by 8:00am to sign in and for course review and safety meeting )
We suggest paddlers carpool and prearrange transportation after the paddle so you can retrieve your car from the Paia Youth and Cultural Center. You will need to provide your own board or gear to paddle.
Any questions, please contact Matthew Murasko, OluKai Premium Footwear Hawaii Ambassador  mmurasko@olukai.com
To register for the OluKai Ho'olaule'a Fun Paddle on May 12, 2012, click here. The cost is $20 and includes your entry and luau dinner.
More about the Fun Paddle May 12th, 2012: 
The 'Ohana Fun Paddle, is a non-timed, non-competitive 3-mile fun paddle designed for all members of the community to get out in the ocean for a good cause. The shorter course is less strenuous, and a great way for paddlers of all skill levels to experience a portion of the legendary Maliko downwind run. No timing chips, no age divisions, just come out and paddle! Maui's own fitness and training expert, Suzie Cooney, will lead paddlers on the 3-mile course.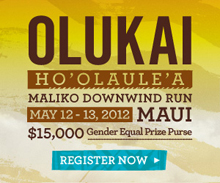 Represent your 'ohana in coordinated colors and outfits, or wear your best Hawaiian warrior costume. This is meant to be a fun event! The most festive participants will receive special prizes from OluKai.
A portion of proceeds from the 'Ohana Fun Paddle go to our 'Ohana Giveback Program benefitting Maui Cultural Lands and Hawaii's Junior Lifeguard Program.
Also for those who are interested in the 8 mile SUP race May 12th or the OC1 race May 13th click here.
Suzie Cooney, CPT  owner of Suzie Trains Maui