30 Days To SUPREME Paddling Performance: Your Platinum Package
GREAT GAINS IN BODY, BOARD SPEED & MIND
BEGINS HERE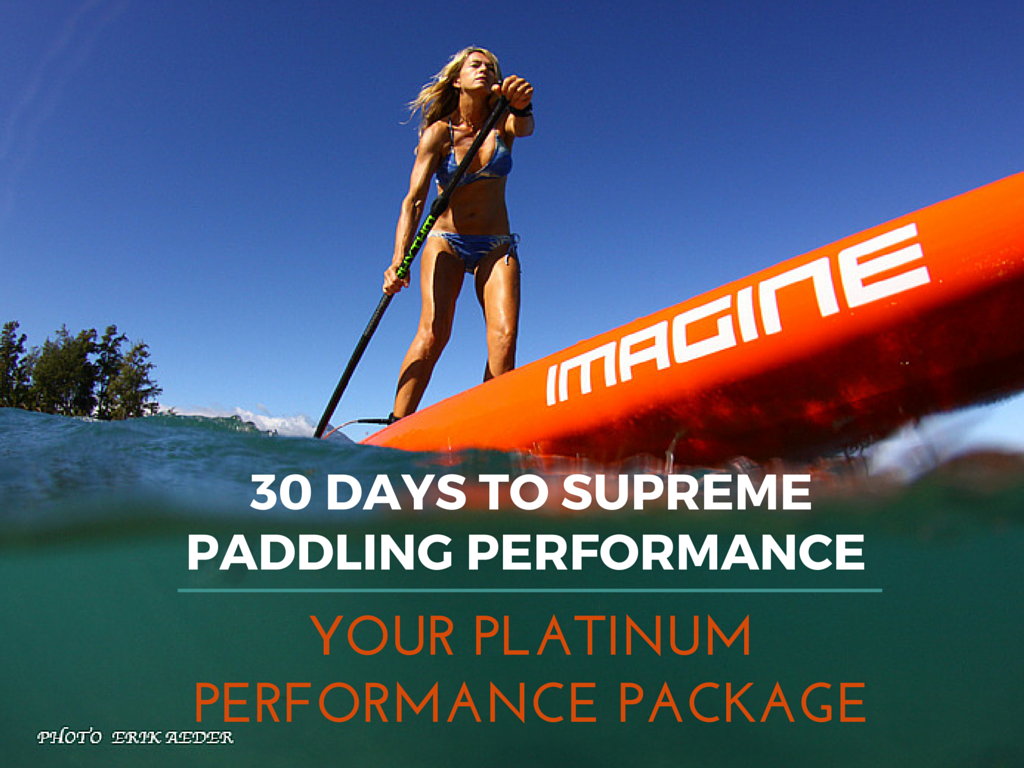 30 DAYS TO YOUR SUPREME  PADDLING PLATINUM PERFORMANCE PACKAGE 
Training with me at your side will fast track you quickly to great strength gains, board speed and shift your mind to a higher state of performing. You may already have a decent base of paddling fitness but need an extra boost, or need to breakthrough a stale wall in your performance. This highly supportive platinum performance package will help you excel to the next level.
WHAT'S INCLUDED IN THE SUPREME PLATINUM PADDLING PERFORMANCE PACKAGE

• Help, tips and suggestions in making the best use of your water training time
• 3  Pre-scheduled (1) hour workout sessions SKYPE or on Maui
• MP3 audio recordings of each session
• Tips on setting up home high performance gym for SUP
 • Email support
• Worksheets to help you record your progress
• Coaching summary and final review of sessions
• BONUS: FREE Stroke Video Analysis
A Friend and Coach for Life
Let's do this!
*NOTE* this package does not include custom SUP program design. Check out the Ultimate Performance Package
LET'S GET STARTED SO YOU CAN GET ON THE WATER AND KICK SOME BUTT! CONTACT ME NOW
HAVING A PROFESSIONAL IN YOUR CORNER TO HELP YOU SHAPE YOUR STRATEGY, WATER TRAINING TIME, YOUR MENTAL GAME MAY BE JUST WHAT YOU NEED!
Please note I am not a certifying body or institution or trainer to train others to become a stand up paddler coach, trainer or instructor. Use of any verbiage, photos and/or illustrations of this material is prohibited.
I appreciate the integrity and professionalism that I in turn extend to others. 
I look forward to learning how I can make you stronger paddler.