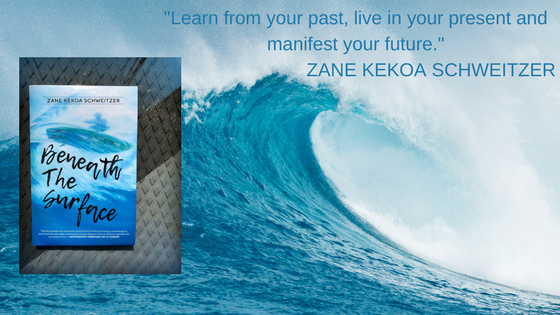 It is rare in one's entire lifetime that you meet someone with a true fire for life, who happens to also be quite humble at the same time. This same person has the ability to look through your soul in the kindest, yet most inspiring way. As they speak, for a moment you may feel yourself transcend to a magical place as if you have rode every wave with them and that you've been a friend for life. And if you have yet to experience what I'm talking about, now you can.
It is with my most sincere pleasure to introduce you an incredible human now talented author, champion waterman, my good friend Zane Kekoa Schweitzer.
Zane Kekoa Schweitzer, Author, Two-time Ultimate Waterman Champion, ISA World Champion 2016, 3x Master of the Ocean, is from Maui and is from an impressive and historical lineage of waterman and waterwomen. Besides having the best parents in the world, Shawneen and Matt, his amazing and talented brother Matty (also waterman) and beautiful sister Shelby (bad ass surfer wahine); make up a family we all know and love as pure "aloha".
It was the week and half before Christmas. I was sitting in my truck in the parking lot at Longs in Kahului, having a very deep conversation with Zane and I remember it was pouring down rain. His new book, Beneath The Surface literally just came off the press and I was having him read to me the table of contents because I just couldn't wait.
As he read each chapter title to me I could feel his enthusiasm and energy build and build. I could see him smiling. My eyes began to fill with tears of joy, as I simply could not believe the music I was hearing. Then came the chicken skin (goosebumps) as he continued to share some of the special meanings and why he wrote what he wrote.

Okay, I was a full on mess now and I think then he started to tear up just a little too. And then we both roared with big laughter! A wave of absolute stoke came rushing next on how this book is going to change the lives of so many people, even if they've never even touched the ocean. Wow. What a special moment. I wanted to jump out of my truck and shout to the world. I didn't care it was practically a monsoon.
THIS is what I mean. THIS is just how contagious the content and stories, miracle competitions, adventures, life lessons and the examples in this book will feel to every single person who picks it up.
Beneath The Surface offers everyone a chance to experience the giving ways of "aloha" through the eyes of a young warrior with an old soul. You'll discover Zane's daily disciplines and practices and how he approaches his life, relationships, competition, change, training, family and the future of our planet.

Walk to the water's edge as you turn each page and learn about his insane travel adventures, the adversities he's had to over come far away from home, the friendships he's forged, and the languages he's learned from worlds far away. Zane has literally come back from the darkest places, near death, alive, strong with many messages full of great purpose to share.
Reading Zane's book has left me with the feeling that he is my soul brother I never had. He writes as I speak as if no other words need to be spoken.
I encourage everyone to get this book and dive in because trust me when I you tell, this book is near and with me everyday.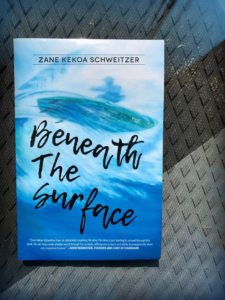 Join Zane on this amazing life adventure. You can do so by purchasing his book BENEATH THE SURFACE, CLICK HERE : https://www.zaneschweitzer.com/zanes-book
Suzie Cooney