MAUI,  Paia HawaiiSaturday May 10, 2014
OluKai Ho'olaule'a 3 Mile Fun Paddle 2014 A Great Success 
The Ocean is Our "Fun" Potion
The 6th Annual OluKai Ho'olaule'a event this year was an amazing ocean event and celebration.  The island of Maui was alive over Mother's Day weekend with over 300 stand up paddlers OC1 racers participating from around the globe. The food,  luau was ono delicious and the musical talent was amazing. The event was open to the public that also included Hawaiian games and canoe rides.  For a full recap of event and race results, click here.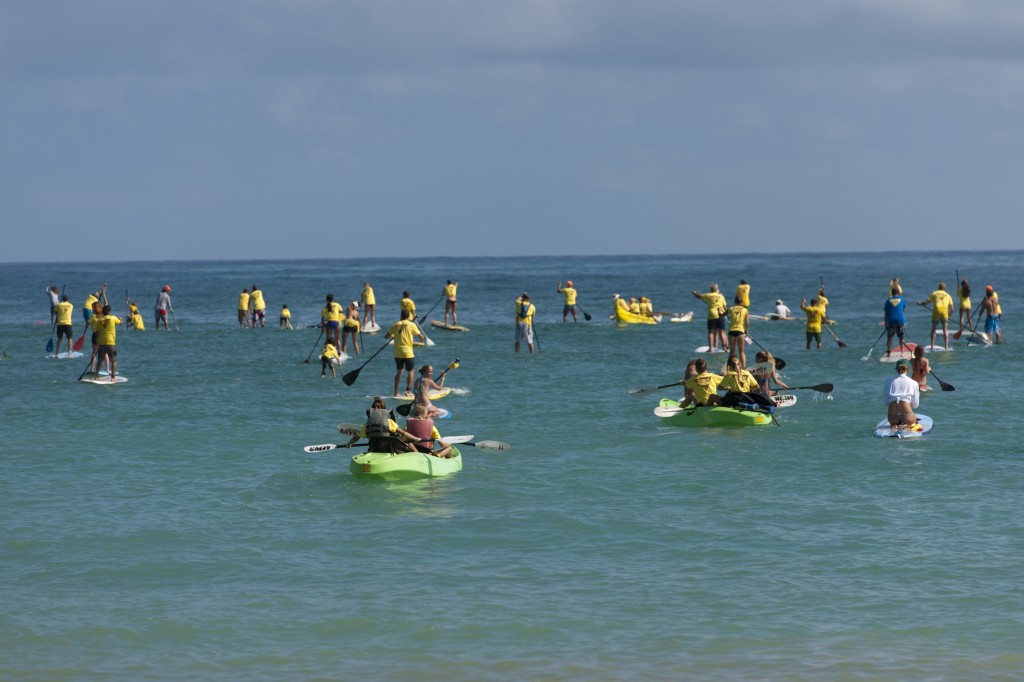 The Fun Paddle Division is becoming an event within the event; allowing for all ages and everyone and anything you can humanly paddle have their own time in the ocean without and pressure. Instead these participants were geared up to paddle just 3 miles from Paia Bay to Kanaha Beach State Park.  The start and pre event area was kindly hosted by the Paia Youth and Cultural Center where their kids have been training hard all year round for this special day.  ( SEE SPECIAL PHOTO ABLBUM BELOW )
The brightly colored yellow  OluKai flags were flying in the courtyard as we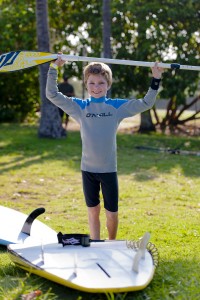 were graced with blue skies and touch of small swell to make it extra exciting. The winds were very calm, not the normal venue for the famous North shore of Maui.  It was a welcomed site as young ones ( as young as 5 ) and on up prepared for their ocean journey.
A map of the course was displayed highlighting anchored buoys to begin and continue safely to the finish. As the paddlers arrived and unloaded their boards, the helpful OluKai crew greeted and checked everyone in.  Soon there was a sea of yellow jerseys about the courtyard and beach.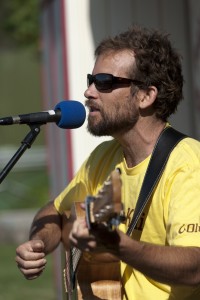 Matthew Murasko, OluKai's Hawaii Ambassador and event organizer, welcomed the crowd and presented the morning's venue. To start the morning he introduced  Bermuda born reggae artist, Mishka who's soothing, acoustic sounds and voice wowed the audience singing a great song called "Ocean is My Potion". What a great way to get into the island and Aloha spirit!
Next up was me warming up the crowd with our traditional pre paddle workout. This is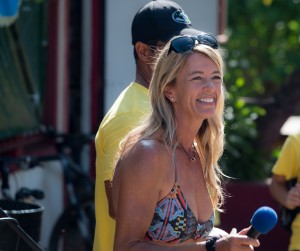 our way to help people relax, get their blood flowing. build their confidence and literally pump them up! As you can see from the photos that's exactly what I did.  These participants were cheering themselves on loudly,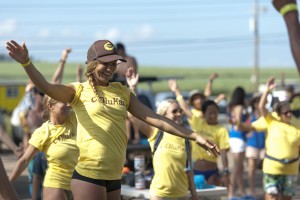 helping me count out the reps and showing a great display of strength and might. My traditional "warrior" move opened their lungs and gave them a chance to fully express their water warrior power.
Then is was time to head to the beach. For some paddlers, this was their very first Maui N. shore adventure which can be quite intimidating for many. The boards and kayaks and a few canoes were lined up on the beach. The beautiful OluKai sailing canoe, the Kamakani Eleu was also going to take a few lucky people on the 3 mile course.
When the yellow helicopter appeared out of no where surprising everyone on the beach,  the excitement level rose to an all time high! It was so cool to see it pan the beach and see everyone waving their arms up at the photographers. The kids went wild as you can imagine and they must have felt like real racers.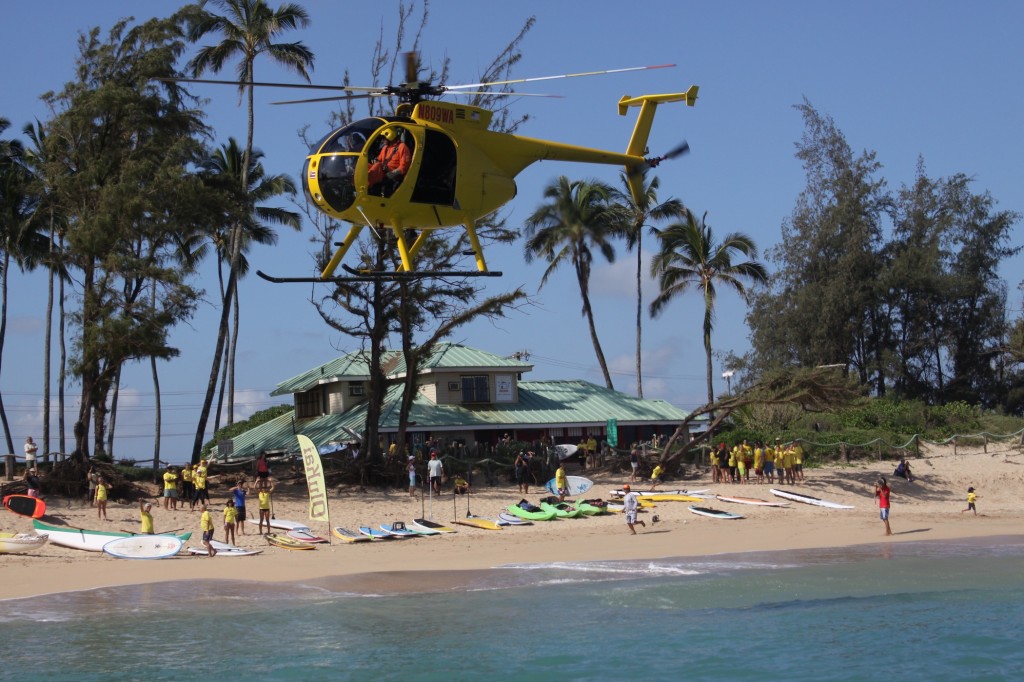 There were many qualified volunteers ready to help everyone and anyone off the beach and into the small shore break. The adrenaline was pumping, the safety jet skis poised to escort and sweep, and cameras rolling. The OluKai flagged was waived then the buzzer from the helicopter sounded loud, I mean really loud. And off the they went.  It was a sight to behold!  I felt like a proud peacock to see many of my clients who have trained for this event all year make their way with confidence and strength through the break and up to their feet!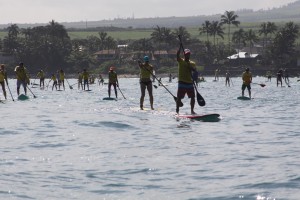 Local Kihei resident, Bo Forster wrties: "Looking down the beach at the sea of yellow Olukai shirts then out at the calm ocean gave me a huge rush of adrenaline and excitement to sprint into the water for my first 3-mile fun paddle. I felt confident in my training and physical endurance thanks to my trainer, Suzie Cooney. When the Olukai flag waved and everyone ran into the water, hopped on their boards and started paddling, I couldn't wipe the smile off of my face! As someone who had never paddled the north shore, I felt supported throughout the event, which gave me the confidence to paddle hard and finish strong! I had an amazing experience at the fun paddle and I am looking forward to entering the Moliko run next year!" 
Typical course conditions are light to stronger trades usually about 10-20mph, however this morning was calm with a slight breeze which made for a slower but mellow paddle. The first paddler in was Amanda Emmes who lives in Haiku, but originally from NYC. She shared with me she was so excited and was using this paddle to test herself to prepare for the 8 mile paddle out of Maliko next year. ( Amanda is in photo above in Teal hat )
Amanda paddled so fast she actually beat the OluKai crew before they drove there!  You're amazing Amanda. Amanda writes, "I had such a great time at the Olukai FUN Paddle! It was such a great experience."

Most folks made it down in roughly 45 minutes some took awhile longer.  Everyone made it to the lifeguard tower and were super stoked. Good job everyone!  Who is ready for the next step, Maliko gulch race?
I encourage anyone who has the desire to participate and experience Maui's infamous N. shore but are a little intimidated to do this course next year. The community-ship of all kinds of paddlers is so supportive and contagious. Once you get a taste of being in the water on Maui and with all of the activities that the Ho'olaule'a offers, start planning your trip for next year.  Stay tuned here for more details.
It's such an honor to be a part of this event each year and it's a pleasure to meet so many fine people that come out and support, volunteer and participate.  Make your Maui dream come true and put this event high on your list.
Mahalo,
Suzie Cooney, CPT
Spokesperson for OluKai Fun Paddle Division
Owner of Suzie Trains Maui, LLC
Sponsored SUP Athlete