Open Ocean Endurance Radio Segment with Suzie Cooney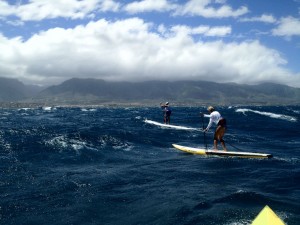 In preparation for the 4th Annual OluKai Ho'olaule'a and anytime you venture into the ocean, open ocean endurance is not something to take for granted and it is a required physical and mental element that all water sport enthusiasts must have, especially when faced with huge walls of water moving and changing conditions. Besides navigating current changes, surface wind speeds, waves or deep troughs, often experienced and non-experienced folks can get into serious trouble or lose critical momentum needed to paddle over, in and through some of the roughest patches that can form underneath you, near you, in front of you or behind you.
This article is helpful if you're a prone paddler, surfer, kayak paddler, canoe paddler or stand up paddler. Are you ready if your canoe hulis and you lose your paddle? How to you react if you fall of your down wind board on a big day on Maliko? How prepared are you? Do you carry a waterproof pouch with your cell phone or better yet, a GPS unit? Do you have a regular cardio routine that includes intense bouts of intervals? Do you cross-train? If you're pausing to think about anything of these questions, then it's time you take good inventory and learn all you can and implement now. ( See tips below ) Also contributing, is Stacie Thorlakson, MCKC Maui Canoe & Kayak Club board president.
Listen below for Suzie's Radio Segment on Open Ocean Endurance:
The Physical Part:
1.Equipment Check: Check integrity of leash, tighten all fins, repair any major dings, tighten drain plugs, charge and take cell phone, fill Camelback, pack extra energy gel, waterproof whistle, wear sun protection, if a one man canoe, strap on an extra paddle.
2. Fuel: Charging the ocean requires food in your belly and hydration to reduce cramping. I like to suggest oatmeal or any complex carb at least an hour before departure. What's great are two pieces of a nutty whole grain bread with a protein spread like almond butter or low salt peanut butter.  Coconut water is a favorite of mine that offers lots of potassium which allows you to hydrate more quickly.  I also squirt a full pack of an energy gel before a Maliko run. I avoid caffeine or super charged sugary drinks as these can actually dehydrate you and cause your energy to crash hard.
3. Body: Strength, stamina and cardio, and more intense cardio.  The biggest thing I notice when training my sport specific athletes or weekend water warriors is the lack of cardio and cross-training. It's a common component that get's overlooked but it's so important. Strength and body stamina takes time to build but is necessary too. There are many formulas on the how to and it's based on your sport, your goals and your current level of fitness so I can't write one program to fit you all. You'll have to come train with me for your specialized program.
For example, stand up paddling compared to a one man adventure out of Maliko is an entire different "physical" game and effort. Not to say you don't use some of the same muscles, but it's a different thwart of body endurance.  Standing and paddling vs. sitting and paddling are two very different animals. Both requiring major body endurance but because a canoe paddler is lower into the wind versus someone standing into the wind, you will spend different amounts of energy at different times to get up and into the proper line.  It's all crazy hard and you're expending a huge amount of energy, all out until you can reach your point where you turn down and begin the run. I tell people, no rest allowed go steady, dig in, head down and breathe.
Are you gasping for air, did you drink too much the night before causing you to be dehydrated, sluggish? Step up your game. Get on a spin bike, run the sand dunes, do sprints and do them often. Incorporate a regular weight training routine too. And of course water time. Time in the boat, on your board is the key, but mix that up as well.
Maui Canoe and Kayak Club (MCKC) hosts a racing series with paddlers from Novice to Elite divisions participating and competing against one another from January – April!  With a variety of skill levels on the water, ocean endurance is very important and is often overlooked among paddlers.  Water conditions may change instantly and paddling on a lake is much different then paddling on the ocean!  To improve your skills, safety; reading the waves and understanding the ocean should be a part of your training program.  Many paddlers cut the shoreline to close and huli in waves or damage their water craft!  Paddlers must know their skill level and seek the water conditions prior to entering the ocean.  A few safety ocean endurance tips:
~Wear Bright Colors
~ Wear A Leash Around Your Ankle
~Paddle with a Friend
~Carry a Whistle
~Bring a Cell Phone in a Waterproof Case
~Know your Limits
~Inform a Teammate of your Course
We all need to know our limitations…a great paddle is a safe journey!
Stacie Thorlakson
MCKC Board President
The Mental Part:  
Having a mental plan to keep you calm is mandatory. Knowing what to do and how to keep your wits about you so you can manage the unexpected can save your life or someone else's is critical. Learn the area and become a weather expert to monitor changing conditions where you are paddling. Get CPR certified and take a basic or advanced first aid course. Fear and or the unexpected can paralyze you from acting and quick thinking. Stop, think, take inventory of the situation. If you don't feel right about a certain day where you think you may be in literally over your head, don't go. Know your real abilities and work up to bigger conditions.
If exploring a new spot, down wind run, or channel crossing, be sure you are in good, qualified company. Get to know the people you are paddling with and their true capabilities. Common sense rules egos can be left in the truck. Let someone you know when and where you are leaving from, time and expected time of completion.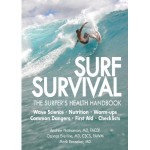 Also be sure to check out Clay Everline, M.D. and partners book on "Surf Survival". This book is well written, informative and can safe your life or someone you know. Check out my surfer's fitness photos so you are well prepared for small and big surf. Order yours now.
A special thank you to all the Maui lifeguards and fire department who are always there in a split second. Your courage and knowledge is much appreciate. Mahalo.
On Maui, you gotta hook up with the Maui Canoe and Kayak Club. Great events, great people and skilled and knowledgable water men and women eager to share, teach and help you enjoy the ocean. Check them out at  https://www.mauicanoeandkayak.org/
Article Reference: Know Before You Go
Suzie Cooney is available for private professional training to help YOU get stronger and more confident for the ocean!
Aloha, Suzie Cooney, CPT and owner of  Suzie Trains Maui