Aloha salad lovers. I can't remember when I first discovered the delicious taste of tamari seasoned pumpkin seeds but I recently discovered how amazing they taste on top of any salad or as a healthy snack. Nutrition for me and my clients has to be simple with no hype or nonsense.  The food I eat has to give me energy and be easy to prepare.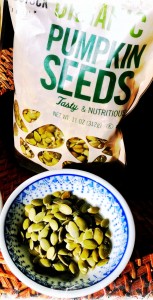 Pumpkin seeds have long been known as a great source of protein, about 12g for one cup. Along with a reasonable source of Omega 3's and 6's, and a decent amount of potassium, ( 588mg ) this raw green seed offers a great deal of nutritional value. These little seeds are also loaded with zinc, amino acids, essential fatty acids, and iron.
Although the calorie count is a bit on the higher side, like 285 per cup, if the serving for your salad is a quarter (1/4) that's only 71 calories. I'll take it! Think of it as sustained energy in the bank for later.
You certainly can enjoy raw and I do occasionally in my energy trail mix, but to add a little zing and flavor, I reach for the low sodium tamari seasoning. This is usually found in the Oriental food section of most health food stores, near the soy sauce.
The brand can find easily is organic and gluten free, no MSG called San J Tamari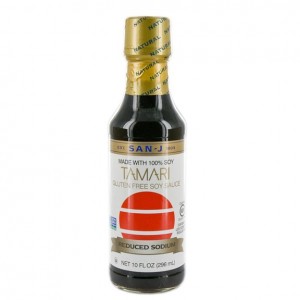 First I preheat the oven to 350. I take two cups of organic, raw pumpkin seeds place in a bowl and lightly drizzle over the tamari seasoning, just enough to coat. I turn over with a spoon and then spread out on cookie sheet with sheet of parchment paper for about 5 minutes. They brown and bake quickly so keep a close eye on them. You may hear a few pops and then they're ready. Let them cool on the cookie sheet
Now I have a delicious salad topping or incredible snack to put in my energy mix.
My salad dressing of choice is a quick blend of olive oil and balsamic vinegar with a teaspoon of honey and honey mustard, and a twist of fresh pepper and sprinkle of chia seeds.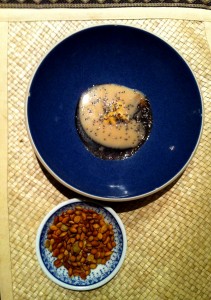 Our garden on Maui has a melody of healthy dark greens, such as kale, spinach and a very exotic dark spinach called tatsoi along with a huge spicy bed of arugala and other greens that add so many amazing flavors. I will also cut a little basil and cilantro to add the variety of flavors.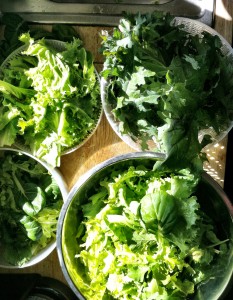 I try to tell my clients and friends that nutrition and food doesn't have to be complicated, simple is better, especially if it's as good as these pumpkin seeds.
Let us know what you think and if you have any tips to share, please feel free to leave a comment or post.
Suzie Cooney, CPT
Owner of Suzie Trains Maui, LLC
Also, to join our confidential mailing list and receive lots of great tips and more, go here:

References: Nutrition Data https://nutritiondata.self.com/facts/nut-and-seed-products/3141/2
https://en.wikipedia.org/wiki/Tatsoi