SUP Surf and Downwind Performance Training Video for Board Upgrades
WANT MORE LIKE THIS: Follow me on Instagram: https://www.instagram.com/suzie_cooney
You've just upgraded to a smaller higher performance SUP surf board or you've pulled the trigger to shave off a few inches in width of your downwind board, are you ready? Perhaps the board has l less volume, is way more demanding and nervous but screams speed, bang'n off the lips, snappier turns and more glides? Tame that board now and get rewarded with better performance SUP surfing and catch more glides with faster brain/leg reaction time with this exercise. VIDEO BELOW
If you already have a different Indo Board and the 24" Gigante Cushion that's cool, but if it's wider and rounder it's really not going to give you the full effect. Best you can do is deflate your cushion a little more. We don't want easy we want burn and early fatigue to increase the finer muscle firing and endurance and reaction time. That's the whole point. If you can get the gear PRO KICKTAIL to match your new hot board. (LINK– SUZIETRAINSMAUI.COM – menu Suzie's Top Gear Picks.)
I've always preached if your body is quiet your board will perform better and go faster and/or deliver what it's supposed you. I also often suggest training each leg independently as if on command you could switch to goofy for regular foot or visa versa. Don't favor just your normal surf stance position because it's boring and your brain becomes bored and that's called plateauing. You can also train in surf stance. Check out other videos on my website or in my book.
We know if you commit and lean down the wave or lean down a swell or bump just a little bit more with your leg and total body volume, you're almost guaranteed to get rewarded with more waves or glides. If your legs are stiff and not flowing with the board and you might as well sit down or go back to your old gear. Relax, have more body and brain confidence but commit to training so your body will simply follow where the board wants to go.
Remember to keep your eyes forward, relax up top and chill out. You've got the sweet gear and now this exercise can help your overall total board performance.
Some variables you can add are: Add a 2-3 second hold, add a single dumbbell held with both hands. Suggested Sets/Reps: 2-3 sets, 10-15 each leg. The possibilities of this exercise are endless this is just a sample. For more refer to the number one selling SUP Performance Book,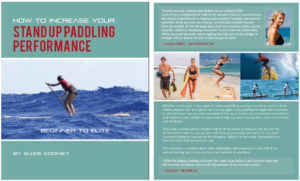 How to Increase Your Stand Up Paddling Performance, Beginner to Elite.
Please proceed with common sense and be sure to get clearance from your MD if you're managing or coming off any lower extremity injuries.
I am available for one on one coaching worldwide via SKYPE. It's fun, easy to set up and super effective.
Please share with your friends and family. Everyone can benefit from excellent balance, brain training and stronger legs.
For SO much more, follow me on Instagram: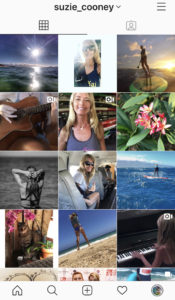 https://www.instagram.com/suzie_cooney
Also be sure to check out my other website with lots of cool Maliko Run® downwind gear, articles, photos and clothing at https://www.malikorun.com/

Surf with Aloha, Suzie Cooney