Suzie Cooney Stand Up Paddling Performance Book Releasing Soon
Maui, HAWAII July 21, 2015
Be the first to know of book release by signing up here: https://bit.ly/1yqTstB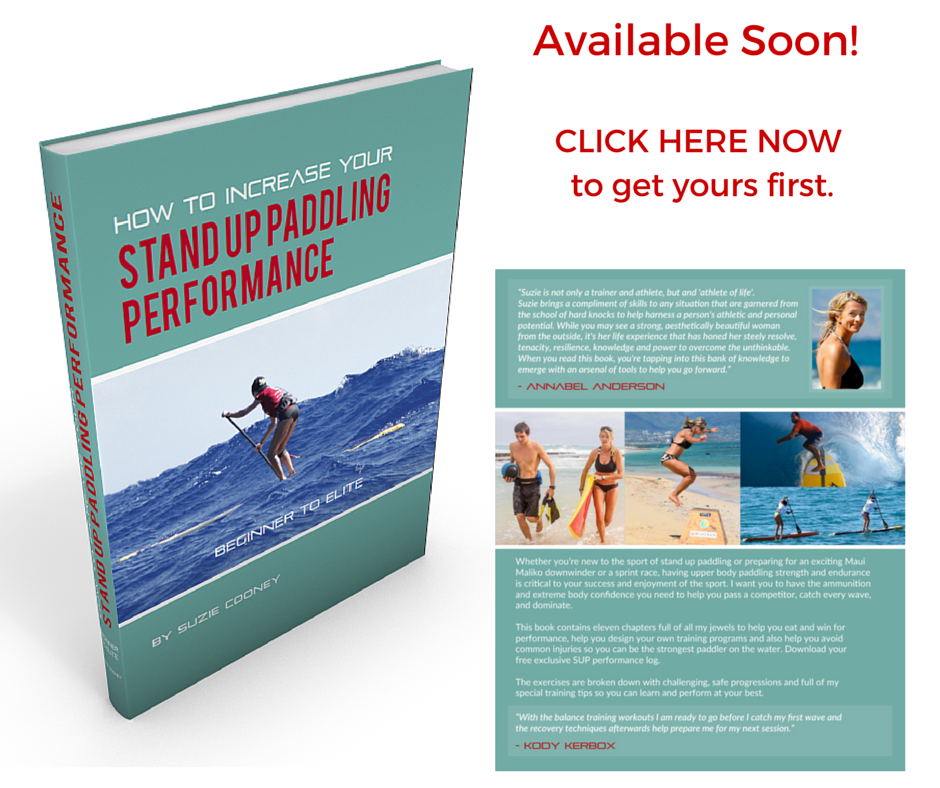 Increase your SUP performance whether you're a beginner to elite paddler.  With over 400 photos, illustrations, graphs and much more to help you increase your strength for all types of conditions from waves, downwinding to flat water racing.
Annabel Anderson, World Champion SUP Paddler writes:
Suzie is not only a trainer and athlete, but and 'athlete of life'. Suzie brings a compliment of skills to any situation that are garnered from the school of hard knocks to help harness a person's athletic and personal potential. While you may see a strong, aesthetically beautiful woman from the outside, it's her life experience that has honed her steely resolve, tenacity, resilience, knowledge and power to overcome the unthinkable. When you read this book, you're tapping into this bank of knowledge to emerge with an arsenal of tools to help you go forward.
This book contains eleven chapters full of all my jewels to help you eat and win for SUP performance, help you design your own training programs and also help you avoid common injuries so you can be the strongest paddler on the water.
Whether you're new to the sport of stand up paddling or preparing for an exciting Maui Maliko downwinder or a sprint race, having upper body paddling strength and endurance is critical to your success and enjoyment of the sport. I want you to have the ammunition and extreme body confidence you need to help you pass a competitor, catch every wave, and dominate.
Book excerpt from Chapter 3 on Balance:
When you specifically balance train to brace with your paddle, you'll be storing unique imprints of body reactions from your brain to the paddle to the water. You'll be able to recall that imprint of information your brain has learned at any moment exactly when you need it.

The exercises are broken down with challenging, safe progressions and full of my special training notes so you can learn and perform at your best. When you see these training notes throughout the book, best to really tune in and take note.
Here is another excerpt from Chapter 7 on Mental Toughness:
Mental discipline and training your brain for excellence has nothing to do with willpower and everything to do with believing you can achieve your goal.
Be sure to tell all your friends! Sign up now https://bit.ly/1yqTstB
Mahalo for your friendship and support, Suzie Cooney.
You can also follow us on FaceBook and get up the minute updates on everything for SUP trainng, SUP stoke and more : https://www.facebook.com/suzietrainsmaui