The Health Benefits of Stand Up Paddling Radio Segment with Suzie Cooney
Listen Below
Suzie Cooney Weekly Health & Fitness Radio Segment from the Maui Breakfast Club: KNUI 900AM Every Tuesday 7:30am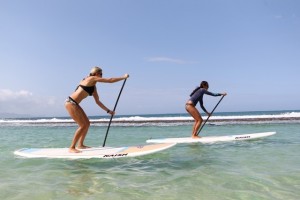 The Health Benefits of Stand Up Paddling   
As a health and fitness specialist specializing in SUP performance and a sponsored SUP professional, I encourage all my clients to get on the water and enjoy all the benefits of stand up paddling. I've written many articles on the topic, from how people are shedding weight, managing depression and believe or not, improving their marriages!
Tune in here to my show recorded on July 17th, 2012:
Health Benefits of SUP:
Shed Amazing Amounts of Weight
Tone Everything
Improved Balance
Increased Core Strength
Great Cross Training
Mindy Body Connection
Total Body Workout
Reduce Stress & Anxiety, Depression
Make New Friends
Saves Relationship ( seriously )
I hope you get the chance to discover SUP also called stand up paddling. I promise it will change YOUR life!
I specialize in SUP and watersports performance training. I also give private and semi private SUP Lessons should you be visiting Maui.
You don't  have to be a surfer, be in tip top shape or know anything about SUP to learn. I do recommend you know how to swim.
Stay tuned for my show airing August 28th, 2012 all about: How to Prepare Your Body for SUP.
or more SUP Fitness Training Tips/Videos: go to my SUP Fitness Page: https://suzietrainsmaui.com/sup-fitness-tips/
I am available for SUP Fitness training, SKYPE coaching and consultations.  Contact me through this website.
Suzie Cooney, CPT Owner of Suzie Trains Maui, LLC
Also, to join my confidential mailing list and receive lots of great tips and more, go here: