The OluKai 7th Annual Ho'olaule'a Fun Paddle Shines On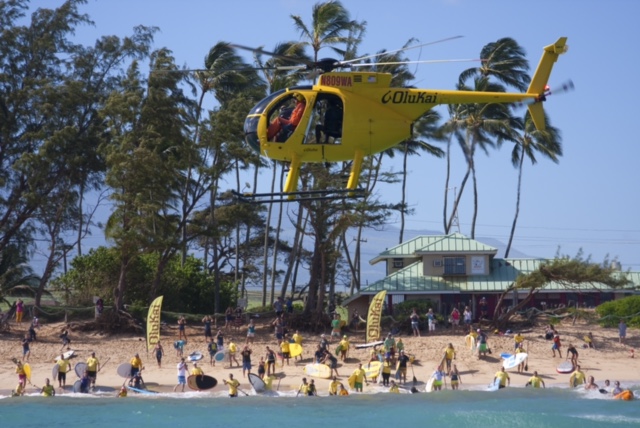 The OluKai 7th Annual Ho'olaule'a Fun Paddle continues to shine on as the event within the event and unites people from around the world, creating it's own tribe of happy, victorious paddlers. This year we had an impressive attendance of 90 people from as far as South Carolina,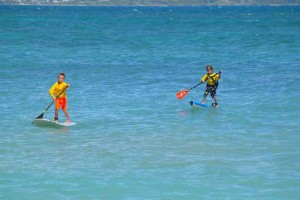 Texas and Washington state,  with the two youngest just 6 years old and one amazing kayaker who did not let their physical challenge of being paraplegic discourage their gallant paddling success.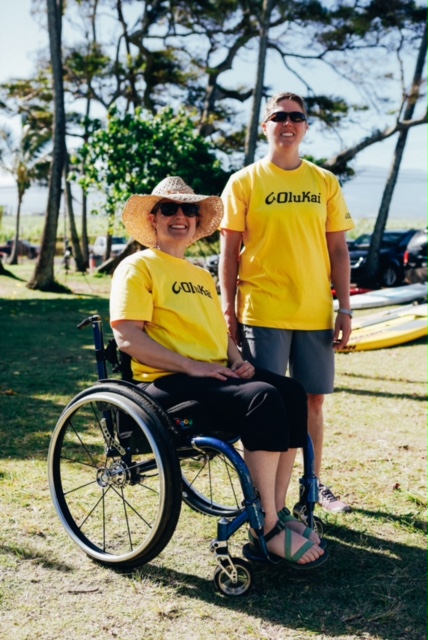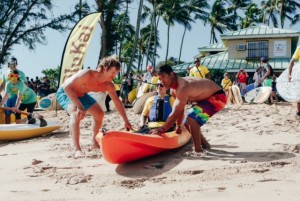 (GALLERY OF PHOTOS BELOW)
This is my 4th year preparing paddlers and getting them fired up for an amazing 3 mile downwind ocean adventure that ends at Kanaha Beach Park, is fast becoming THE stepping stone for those seeking to do the 8 mile Maliko race full on.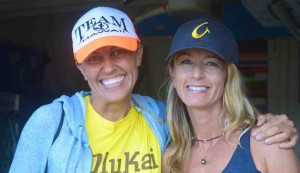 I have to say every year is special but this bunch was an extraordinary group of bright-eyed and excited crew, with some showing a bit of trepidation and most just happy to be on the team wearing a bright OluKai yellow jersey and ready for anything.
The weather could not have been more perfect, with the Maui skies a bright blue and the sun shining warm with an occasional rain mist that would cool down our eager paddlers, adding to that tropical feel of Hawaii.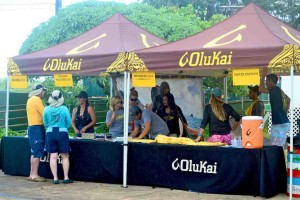 People arrived and placed their boards in the courtyard while others scurried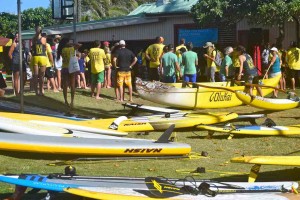 down to the water's edge to check the latest conditions. Music was playing to soothe the nerves and really added to the thrill of our day. The Olukai staff was over the top friendly and eager to greet everyone as they checked people in.
Archie Kalepa, Olukai's real Waterman and Hall of Fame Ocean Hawaiian Ambassador;  was helping me gather the participants and our water safety assistants and also looked on to helped where needed.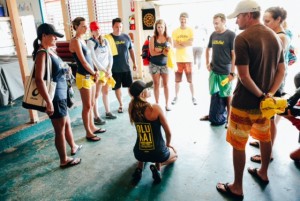 There was a bit of shore break that made a few feel nervous.  I had a special group that gathered in the Paia Youth Club House, about 8 or more; to give them a 10 minute lesson on how to navigate and build their confidence. They were a lot of fun and very appreciative of my advice.
A very enthusiastic couple from Colorado, Amy and Chad, were almost talked out of going by their friend Brian who's last name will remain anonymous. Love you guys!
All in good fun as Archie then gathered our water warriors to the center of the courtyard to review the big course map and safety and I led my usual warm up with a few stretches and exercise.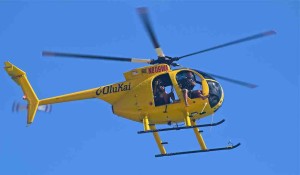 You could feel the excitement building.   The famous yellow helicopter with the crew from Ocean Paddler TV was hanging out the doors, capturing an amazing scene on the beach with the bright yellow Olukai flags waving in the stiff breeze.
I could sense that a few had a bit of the jitters and I could see their half stoic faces full of sheer delight and some sheer terror! I encouraged as many as I could and pushed three people up and over the ocean break to freedom. It was a sight to behold.
One by one and three at a time; the paddlers headed out to the jet ski that was strategically in place as a marker to paddle to and begin the 3 mile downwind adventure.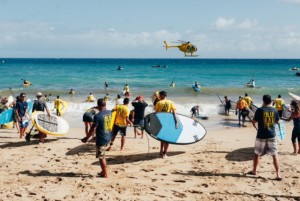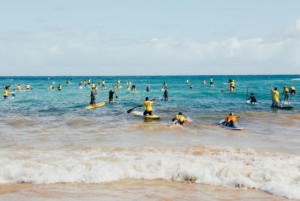 The looks on their faces were ones of tremendous tenacity and determination. Some had eyes as bigs a tea cups and others had almost nervous laughter as they dug their paddle in first on their  knees and then to their feet. I was smiling from ear to ear like a proud peacock.
All you could see was sea of yellow jerseys and big smiles. These paddlers were on their way to an experience they would never forget and one they can share with their family and friends with great accomplishment and tremendous pride.
Some first time paddlers had the thrill of paddling in the The OluKai 4 man canoe that was led by Todd Bradley. Since this is a "fun paddle" we even allowed turtles to paddle.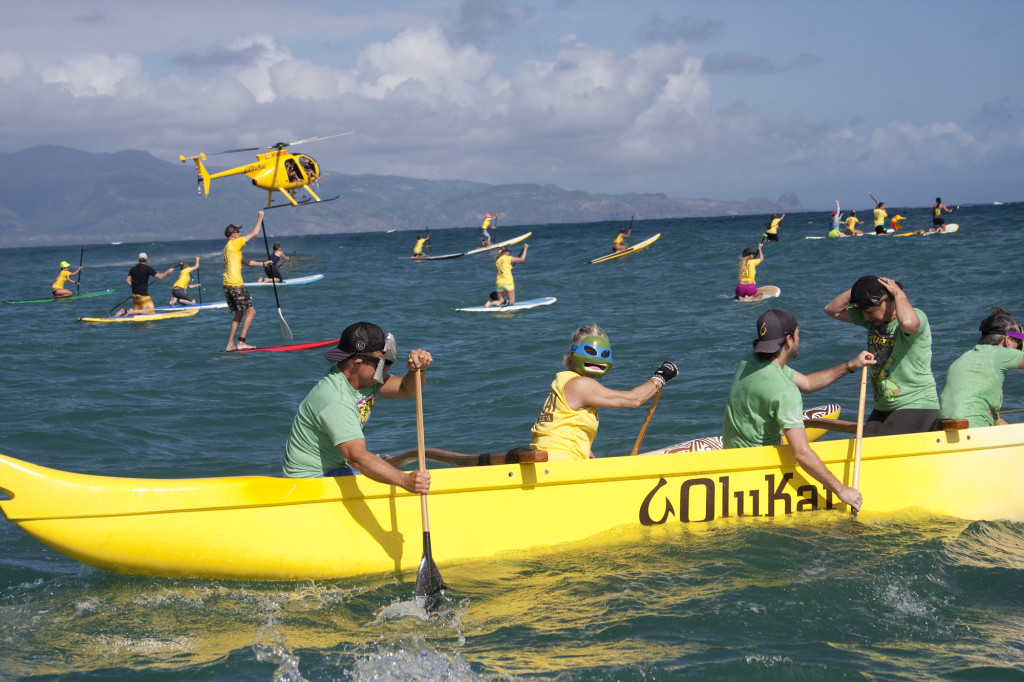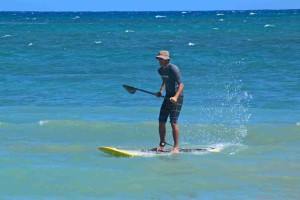 If you ever want to feel what it's like to paddle down Maui's beautiful North shore with a large group of contagious thrill seeking adventurers, then don't miss your chance next year.
Our OluKai ohana will take good care of you. You will feel enough Aloha to last you a life time, this I promise.
I am so thrilled to share this with you and I hope you will do the same.
A hui ho,  "goodbye until we meet again"

We'd like to give special thanks to the Paia Youth & Cultural Center for hosting us.
Aloha,
Suzie Cooney      
PHOTOS: by Erik Aeder and Tracy Klassen of Action Shot Memories