A Must Watch Video on Ciguatera Fish Poisoning
A must watch video on ciguatera fish poisoning that I just discovered posted by Michael Gregor, MD. This is a must see video for anyone who enjoys eating fish.
You may think twice after you watch this.
You see I have ciguatera fish poisoning and since June of 2011 I have been suffering horrific symptoms but will not give up my Maui lifestyle in my profession or as an athlete.
*****NEW FINDINGS ON CIGUATERA DEVELOPMENT/ HOW AND WHERE SUZIE COONEY ACTUALLY CONTRACTED THE TOXIN: It was first suspected that shrimp was the carrier of the toxin. Since the first noted symptoms reported June 11, 2011 and after reviewing my personal calendar more in depth and interviewing who I was with, it was concluded that I ingested the toxin here on Maui at a local restaurant. Fish tacos were offered as an appetizer but the fish name or type was not offered. We also discovered that often different types of miscellaneous fish are battered and served in this fashion.There is no way to smell, sea or taste the toxin. Diner be ware and ask your server to confirm they type of fish you are requesting if it is not stated clearly on the menu.
As I type, I've just come off the water paddle surfing and being in the sun hurts,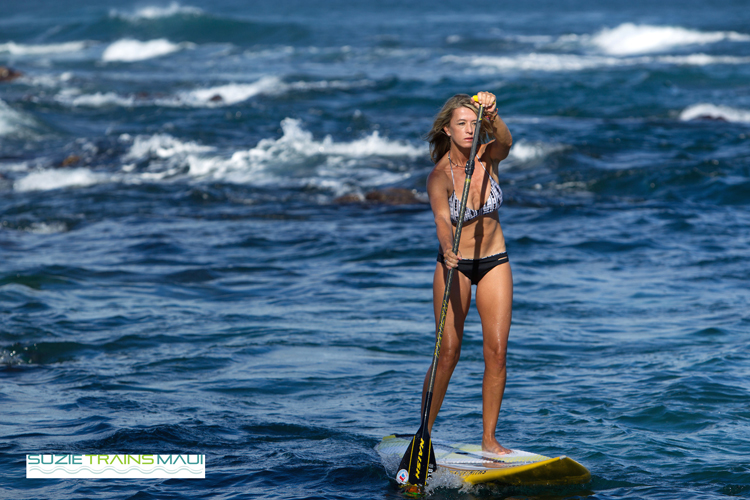 exercise of any level causes the burning and you'd think the ocean would feel good, but it stings my skin. We believe I got ciguatera via eating shrimp in an Italian restaurant in the Bay Area of California. My ears, mouth, back, eyes and feet are burning, my hands are numb and it feels like my teeth are falling out this very moment. My skin is a dark, red tan but I will never stop paddling.
This video and article was first published here by NutritionFacts.org
To learn more about this debilitating toxin, you can read my story and interview with Women's Health Magazine. Although the doctor they interviewed stated you cannot contract ciguatera toxin from shrimp, I'm not sure that is correct.
A Personal Peek Into My Life Living with Ciguatera
Women's Health Magazine Shares My Story On the Scary Fish Poisoning You Haven't Heard About
For any of you that are suffering from any neurological discomfort, my heart goes out to you. Please know you are not alone and together we must try to keep a smile on our face. Do not let it win. I'll be thinking of you.
Aloha and mahalo for stopping by. Please feel free to comment or share this article.
Your health is your wealth.
Suzie Cooney
Suzie Trains Maui, LLC