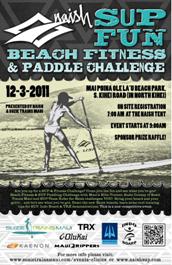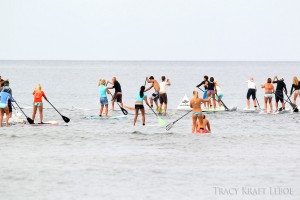 Maui, HI., Saturday December 3, 2011 was the place to be as a very entertaining, free, unique SUP ( stand up paddle ) event took place in North Kihei's Mai Poina Ole La'u Beach Park, where participants were greeted with mild, calm conditions and a small south swell. The purpose of the event was to allow those new and experienced  to the wildly, ever-growing popular sport of stand up paddling also known as "SUP";  participate in a very interesting and challenging fitness beach course and ocean paddle challenge.  ( photo galleries and sponsor info below )

The event  attracted over 55 participants men and women and was hosted by Naish International and Suzie Cooney, fitness specialist, Naish Team Rider and owner of Suzie Trains Maui. To wow and inspire the crowd local Maui resident and recently crowned 2011 SUP World Champion, and Naish Team Rider, Kai Lenny also demonstrated his skills on the water and then
showed off his nose riding techniques atop of the Indo Board gear that was available for people and the public to try. In addition to the Indo Board demo by Suzie Cooney and Indo Board Team Rider, Leighton Nakamoto , a TRX Fitness Rip Trainer demo was also conducted to show how it can be incorporated into one's stand up paddling fitness training.
Stand up paddling is drawing great attention world-wide but is also helping people of all fitness levels to embrace a more healthy lifestyle. This non-competitive event was designed to challenge, inspire and bring people together in an environment that offered something different than racing without any pressure. The mission of Suzie Cooney and Naish and all of the wonderful volunteers was to provide a fun venue that offered a sort of bonding experience through a little literally, heart pounding action.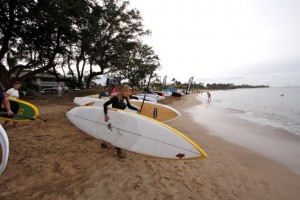 The course: 3 buoys in a triangle format marked the water action as a mass start began at the sound of a horn! Off to the first buoy paddlers were met by Maui's own downwind champion, Jeremy Riggs who cheered and helped people navigate, some for their first time ever near a buoy, around turn number one. Then as paddlers began to spread out with some of the more experienced paddlers, such as Donnie McGean, Bill Hoffman and a few more in front,  it was time to land on the beach and begin the crazy fitness obstacle beach course that consisted of 4 stations with volunteers to cheer, encourage and assist if needed.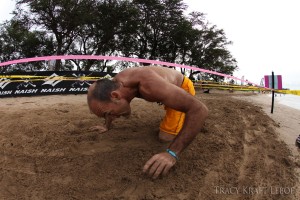 Donnie, crawling left, writes, " As for the funniest moment it had to be trying to stand up and run after the taco rolls.  As for what I enjoyed the most, it was meeting new people that were interested in SUP.  My goal is always to give 100% and still have fun. As for what I found inspirational, it was that some of the best in the SUP world came out to help and share their knowledge and love of the sport.  Thanks again for a great event."
Tweet

Donnie On the beach, participants hopped off their boards and ran to station number one, a 20 foot long  by 8 foot wide crawl area. Here people had their own unique strategy and style as they crawled, dove on their bellies or some on all fours under yellow caution tape.  Then up to their feet to run a zig-zag cone course, then drop immediately at the pushup station where Coach Leighton Nakamoto, resident of Makawao made sure people did 10! Boy,  was he tough!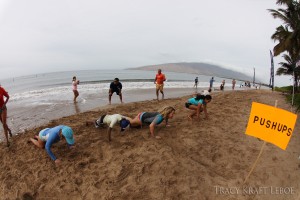 The most spectacular entertainment of the day, was the sandy taco roll. Here, immediately after the pushups, participants had to drop and roll for
about 20 feet while trying not to get dizzy or roll into the ocean. Tommy Callan, creator of this station cheered and helped people up to their feet and guided them to the two Naish flags where one then had to run through and then run or jog back down the beach to get their boards and hit the water for one final lap and then one final spin through the course.
Although this was marked as a non-competitive event, one had to take notice of Maui's Donnie McGean who managed to stay in front and finish in the lead. My other buddy and downwind training partner, Bill Hoffman of Pukalani was hot on his tail and finished 2nd. Everyone finished and everyone at this event were winners. Anyone who could simply finish this grueling course deserves a round of applause. I'm totally proud of all of them. People were laughing, grunting and looking at me with the look of  "you've got to be kidding", but they kept going. It was great.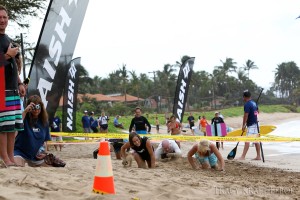 Visitors, spectators and anyone who happened to be on the beach that day could not believe what they were seeing and stuck around to join in on the cheering.
After the final finishers joined the others rinsing off all the sand in the ocean, all registered participants and volunteers had the chance to have their name drawn for wonderful prize raffle by companies and brands who support the sport and lifestyle. Naish, Indo Board, OluKai Premium Footwear, Kaenon Polarized Eyewear, TRX Fitness, Watermans Applied Science Sunscreen and Maui Ripper clothing company all generously donated fantastic gifts!
I want to thank all the volunteers who got up before sunrise to help welcome everyone and greet everyone
with a huge smile and encouragement. Also a huge Mahalo to Kai Lenny for being you and an incredible inspiration to the sport and to us. In addition to the talented, brave photographers Simone Reddingius and Tracy Kraft Leboe for capturing so many awesome moments. Coach and Martin from the Naish Maui Pro Center for providing all of the cool 2012 new Naish boards for folks to try and to Tommy for helping me dream this event up. It's his fault if some of you are still dizzy from the taco rolls.
Bill Hoffman ( 2nd person to finish ) writes:
"I wanted to say thanks for a great event and all the work you did. There were a lot of happy smiles there. I think it might be because it was none competitive. I enjoyed sharing the experience with my friend Alfred and winning a prize. At most events the guys out number girls 3 to 1 but at this event there were more girls than boys. It was nice to see them getting into SUP. The funniest moment was trying to walk straight after the Taco Roll."
Stand up paddling is here to stay and it's so cool to see it grow and offer a way to stay healthy, meet new people and enjoy the water. As some are still learning, it's important to learn about water and ocean safety as well as how to be safe in a line up with other paddlers and especially surfers. Always be courteous, check your equipment, wear a leash and share the waves and throw a shaka now and then.
I also want to thank Naish International for helping me bring this idea to life and also to the Maui County for allowing us to offer an event like this to the public. We hope that our community and the island of Maui will continue to support and embrace events such as this.
Follow @SuzieTrainsMaui
If you or someone you know is visiting the island of Maui or if you live here and want to check out or rent the new line of Naish boards, contact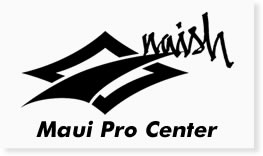 Coach at the Naish Maui Pro Center at 808-871-1500 or go to their website:    Also, if interested in fitness training and especially SUP specific training while on Maui, you can reach Suzie Cooney of Suzie Trains Maui at https://suzietrainsmaui.com/contact/

Our talented Maui photographers Simone Reddingius and Tracy Kraft Leboe share their works here:
Simone: https://beachgirlmaui.blogspot.com/      Tracy: https://www.tracykraft.com/
no images were found
no images were found
no images were found
no images were found
no images were found
Sponsor Links: