Weight Loss Success Story: Dano Sayles of Maui Hawaii Lean, Strong and Healthy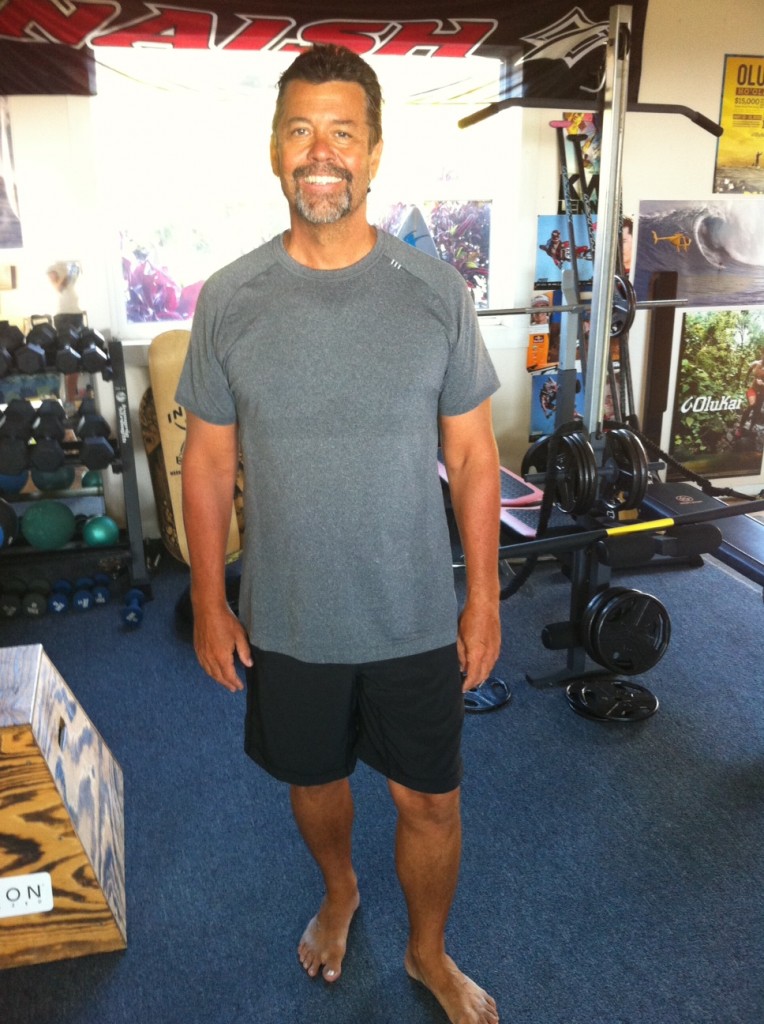 I'd like to introduce you to my client and friend, Dano Sayles of Maui, Hawaii. Dano, husband, and father, is a successful realtor and business entrepreneur who has recently accomplished a tremendous, goal.
Dano shed 40 pounds in two months. His body fat dropped from 33% to 26% and lost an impressive 7 inches from his waistline!  ( SEE PHOTOS BELOW ) He is 54 and is living proof that anyone can do it, you just need the support and tools.
We all know the challenge of losing weight and keeping it off can be frustrating and defeating. But when you have a plan and surround yourself with a team to support and guide you reaching your goals is awesome!
The world looks different. Your clothes fit different, you move differently with a profound inner and outer strength, and the world sees you differently.  People want what you have and that is pure and simple, health and vitality.
Dano transformed his life and has kindly allowed me to share his story on how he did it. There is no secret formula, no magic pill or wave of a wand. So, how did he do it? Well, he was first motivated by a contest called the 6 pack challenge.  People from all over the country would post their weight loss goals and history on FaceBook and by a certain date, there would be a winner with the most weight lost.  Dano is competitive.
He discovered the popular movie,  Fat Sick & Nearly Dead, a Joe Cross Film.  This film is real, raw and really incredible and shows the emotional connection to food, unhealthy habits and the debilitating physical results a poor diet.
Inspired by the movie and the amazing results the people in the film were having, Dano came to me fully ready to commit.   It was time to shed the weight for good and start a new, healthy and energized life. Little did he know just how much it would change his life in every way. We had some very big goals ahead of us.
I had been coaching and training with Dano in the past and often travel or the demands of his business would pull him off course.  We'd reach some decent goals and then we'd have to start over also sometimes due to injuries.
Like the movie illustrated, I mentioned to him that I had tried juicing myself and knew of well known chef on Maui named Craig King. He offered a service of preparing daily fresh juices as a way to cleanse and jump start many people who needed help in cleaning out the body and starting anew.  I also knew they would get along very well and have a supportive relationship, which is critical during this transition from food to no food.
Chef Craig King is a kind, intelligent and highly experienced in eating for vitality, health and energy. His cleanse is called the Glow Cleanse.  Learn more about Craig here.  Craig prepared Dano's delicious juices daily and also helped Dano set his internal compass. Craig shared for this article,
      "When Suzie refered Dano to me, I could tell he had the "Eye" of the tiger!!!  Between Suzie's support and Our collective interaction, Dano represented the height of What Our Work can do.  More simplified,  The community came together to  manifest the change we all wanted to see."    Chef Craig King
Dano was now building his team of health professionals to assure a safe and long-lasting journey. I encouraged him to inform his physician of his efforts and change in lifestyle habits. Additionally I suggested that he may want to seek healthy and likeminded friends that could also help to inspire, offer support and show by example.
The most important element that I require for my clients, who explore the world of juicing, is to be sure they are educated on the process and to make sure their energy reserves are full and at their best. This combined with my rigorous training schedule will assure results.
Besides Dano's weight loss goals, he wanted strength for stand up paddling, mountain biking and hiking with his family.  We designed a serious training program that included leaning out the body without adding extra bulk.  Cardio was also a required component of Dano's training, intense cardio.  He also enjoyed an occasional sweat yoga session and steaming was his reward.
Dano was incredibly focused and on a course to make this happen. There was something different this time and I have to say without the risk of sounding corny, he was literally starting to glow from the inside out during this process. His eyes, skin and thoughts were very clear.
no images were found
I refer to this as a process because it literally is.  It is a life transformation. It is a decision that feels right. And when the decision is a client's own, the most fantastic, life altering changes are made. The relationship with food becomes more of a sustaining element versus a crutch or comfort. Your body begins to accept this new way as the fresh minerals are integrating in the system.  Energy is provided simply by the clean juice preparation and by the output of your own body.
Each person is very different on how they respond to this transition and Craig is very good about informing each client what to expect and how to reintroduce food and learn new eating habits.  The juices are truly delicious.
Dano was diligent and a health soldier.  There were some days I could see in his eyes that the workout ahead could be tough. But he brought to the studio his jar of green glow and on we charged.  I asked Dano what was the hardest part of this journey and what did he learn most about himself?
               Dano's response:  "Not going out to dinner with family and friends was the biggest challenge . I was being invited out to Maui's best restaurants and had to decline because I didn't want to be tempted by food. I learned that a have real self discipline when I set a goal and put my mind to it."
If I were to write a book about Dano's path, the title of that book would be called
"Glowing, Healthy & Alive"
I am so very proud of him as you can see from the picture he not only beaming, but "glowing" with pride and is now a great example of what you can do. Dano juiced for an amazing 49 days and the first bite of food was an apple.
Now not everyone is able to manage this type of juicing or cleanse so it is best up to you and your physician to determine what is best for you. Craig is a tremendous help and coach as well.
I also asked Dano what he could share with others to inspire them?  He writes, "Juicing and working out has changed my whole out look on life. I feel years younger and have tons of energy. I will keep this healthy lifestyle going."
Creating a new lifestyle and then maintaining it is the real test. But hey, it certainly feels good when you walk into a room and some of even your closets friends don't recognize you, that's pretty cool.
I want to sincerely thank Dano for being so brave to share his photos and journey. I also want to thank Chef Craig King, Dr. Rick Sands, and Dano's wonderful family who continues to support him.
I hope this article inspires you or someone you know to make the changes to be healthy, strong and fit like Dano.  Everyday we have the choice.
If you or someone you know would like to shed weight, get strong and learn how to adopt a new healthy lifestyle or how to set goals and get fit, I offer a 30 minute visit at my studio by appointment.  I can be reached at 808-283-2121 or via my website at https://suzietrainsmaui.com   Make me a part of your health team.
To contact Chef Craig King for a personal juice cleanse consultation:
Craig King
Chef  d'Liquid
Lumeria Glow Cleanse
1813 Baldwin Ave
Makawao, HI 96768
T: 808.579.8877  F: 808.446.8117   E-mail: craig@lumeriaglowcleanse
Aloha and in good health,
Suzie Cooney, CPT owner of Suzie Trains Maui
Also, to join my confidential mailing list and receive lots of great tips and more, go here:


Also, tune in to my weekly health and fitness radio segment on Maui's Breakfast Club at KNUI 900am Tuesdays at 7:30am