Fighting Fires and How We All Can
"SUP by Example"
Aloha SUP friends,
I've been a bit absent of writing as we approach and prepare for the downwind racing season here on Maui, but I'm compelled to share this story of inspiration. I could not resist a new symmetry for the sport we love, I call "SUP by Example."
Whether you're an elite racer Ricky or a weekend warrior Wendy; we are a connected tribe of amazing people who all have stories on how SUP has transformed our lives and how maybe you have helped someone or helped yourself; to feel better in life or SUP by Example.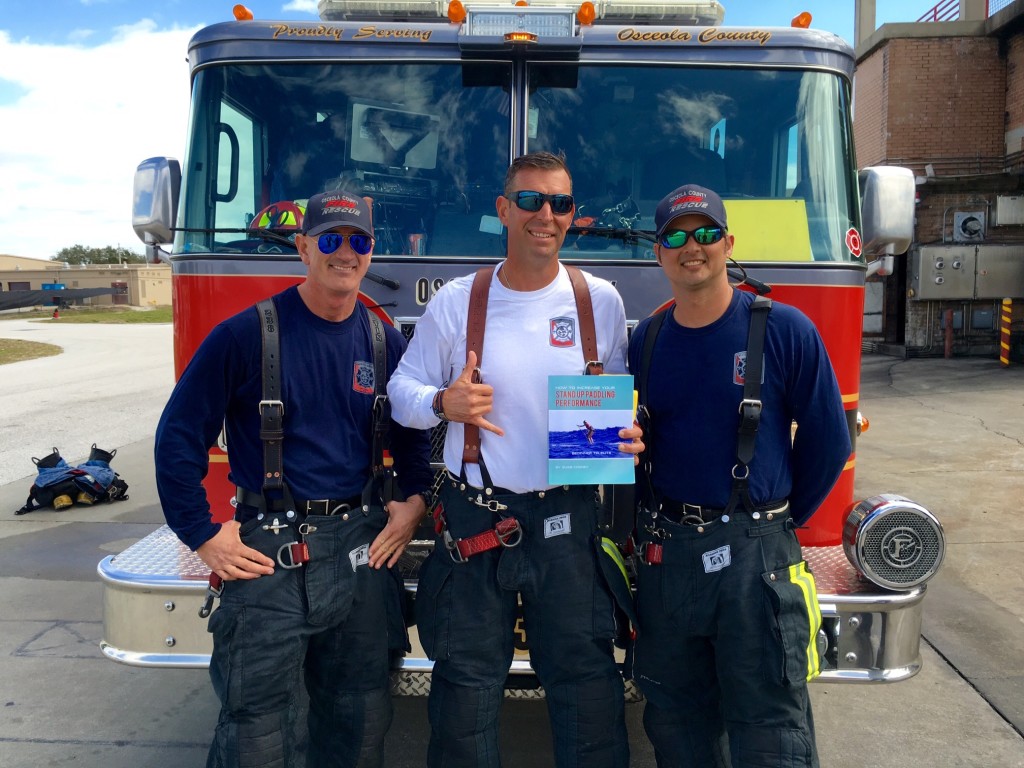 Osecola County Fire Rescue Station #57 "B" shift
One of the many rewards of writing my book, How to Increase Your Stand Up Paddling Performance, Beginner to Elite; is that it has connected me with so many interesting and kind people from around the world. We all share this passion for SUP that is contagious and full of stoke. Connecting globally seems to be one of the many healthy benefits of stand up paddling.
I receive many kind emails about how my book has helped people become stronger with their paddling and how they discovered new things about themselves on and off the water. I hear of stories how SUP saved their lives and their relationships or how maybe these same people have helped others saver their lives, literally and emotionally.
Recently I sent a signed copy to a fellow paddler named Ron Jones from Merritt Island, Florida and this is how this "firestorm" of inspiration began for me and why I felt it so worthy of sharing.
Ron wrote to tell me how much he loved the book and how he had his crew at the fire station doing the exercises. Of course he paddles but when I heard this, and his sincere enthusiasm, it sent shock waves through my heart.
I felt so validated that I have indeed chosen the right path in my career. I mean I love what I do but THIS was something that really struck me. This put an extra stroke on the stoke meter for sure.
He totally surprised me and sent the photo above that brought me to my knees with joy. I just could not believe my eyes. WOW, look at these great guys in front of their fire engine, in their uniforms and big smiles and with Ron in the middle sharing my book with lots of Aloha and a big shaka! What could be more cool?
I wrote back in awe half joking and casually wrote, " I need to get your autographs." And so the story goes. A couple more emails exchanged and I offered a free 30 minute SKYPE special "station" session for the crew just for making my day, but It get's better.
With Ron's permission I wanted to share a couple of our email exchanges as it's probably going to put a big grin on your face and make you feel fuzzy. We all need more "fuzzy" now and then.
Ron writes: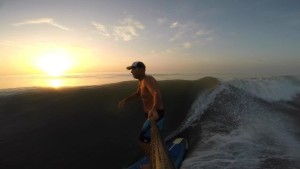 "Good Morning Suzie, When I woke up this morning for work I saw your email and it brightened my day knowing you were so happy! As soon as I got to work I shared it with my crew and they were all happy as well. After reading your sweet response to the photo I sent and your statement about making that photo into a poster and getting us to autograph it the lightbulb went off in my brain. I read that email to my crew and told them that is just what I'm going to do have a poster made and we're going to sign it and send it to Hawaii. I will honestly say I have never in my life autographed a picture for anyone but doing this for you was something I was excited about.
That was a small token of mahalo for all that you do and all of the people you have helped. You truly are an inspiration after reading more about you and all that you've had to endure in your life. I am a firm believer in the law of attraction and that people are brought into your life because your energies are on the same wavelength.
I struggled for many years with being overweight and just being unhappy with myself. About three years ago I decided to make a change after losing a coworker at the fire department for health reasons that could have been avoided.
Not to get into a long drawn out story but I took up running, triathlons and finally found my true love which is being on the water whether it's SUP surfing or paddleboarding. I have cleaned up my diet and tried to set an example for my fire department and let everyone know it's never too late and you're never too old to make good positive changes.
After reading your book on my iPad I connected very well with your form of exercise and thoroughly enjoyed the detailed information on how to be a better paddler. I am not one for going to a gym for traditional exercises so I was happy to share your exercises with my crew and that is what brought us together.
Keep up the awesome work you rock!"
My reply: "Ron, this is simply bringing tears to my eyes. I am so very honored you had the comfort in expressing and sharing yourself so openly. I'm sorry for the loss of your friend. That is never easy. Your personal "life" transformation is a story of inspiration, courage and another level of bravery. Not everyone is able to actually execute such an incredible endeavor.
I am seeing two very different people in those photos with the same big heart. I'm stunned and so impressed. There is something extra special about our sport and that is you. This is what I live for and do what I do. And for you to validate my journey, I owe you so many thousands of hugs.
I am writing another book on moments just like this and you may very well be the first chapter.
I can't wait to get my photo and "patch" framed in the most special way and write about "our" story. I am doing that and will of course let you approve. I want the world to know that they too can make a difference and "SUP by example." This is another positive that connects us all. I LOVE THIS.
Let's schedule a surprise hello to your crew via facetime one day soon. Can you do that? SKYPE is easier but please let's do that.
Thank you!! Suzie Cooney
Ron's closing reply:
"Suzie, your words are so sweet and I definitely agree the SUP ohana is something special. I learned this in my very first race, which was the Orange Bowl down in Miami 2014. Before the start of the race I had the opportunity to attend Dave Kalama's clinic on racing and thought that was pretty cool to meet a legend.
I later met a lady name Rhonda who was racing for her first time also but seemed to be very nervous so I began to chat with her and see if she was OK. Come to find out she was a recovering alcoholic and got into paddleboarding for the physical and mental part and really wanted to do this race to prove to herself she can do it. I told her even though she did not know me I would stay with her during the entire race no matter what so she would feel comfortable.
That was an incredible experience I had, she was so nervous and her form was so poor but I stayed with her having conversation about her life so the time would pass quickly. We share many of laughs together and came in dead last but in my mind that was first place for me. I knew after that race this was a sport for me.
This past October I raced Chattajack for the first time and was totally taken over by all the energy that was on the water with me. At the start of the race I notice a guy who had fallen in right off the bat so I check to see if he was OK he said he just lost his footing.
About the last 10 miles of the race I noticed the same guy fall several more times so I paddled up to him and asked if he was OK and he said he had pulled his back and wasn't sure he could finish. I told him that I would stay with him till the end and that nobody would be left behind.
Paul and I got to know each other quite well for those last miles of the race and I watched him fall several more times, but I kept encouraging him to get up we're almost done what a great accomplishment we will have when we cross the finish line. We both finished the race with a slower time that I had anticipated for me but this was not about time for me it was about time with others.
Later that night I have the opportunity to chat with Larry Cain who won the race and he went over paddling strategies with me for next years race. Larry was recently down in Florida training with the Canadian Olympic canoe team and I have the opportunity to spend several days on the water with him.
We paddled 60 km together, doing interval training, night racing with friends and just great time on the water. I was so impressed that an Olympic gold medalists; would share that much time with me but after getting to know Larry he truly has a passion for the sport and just like everyone I've met loves to share it with others.
I was recently selected to be in ambassador for Starboard SUP And that truly has got me stoked to share my love of the sport with others. It was also pretty cool that Larry is a team rider for them also so I was able to try out the race board, which I have ordered but not received yet.
I'm sorry if I'm babbling so much I know you are a very busy person but felt I just had to share those couple stories with you. This sport is all about staying fit, making memories and having fun and I have been fortunate in a short period time to experience quite a bit. I hope this helps you confirm that we can all "SUP by example"."
Email Close.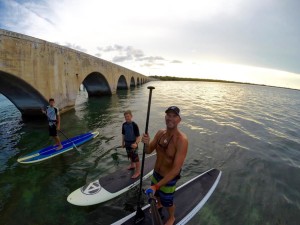 You can surely agree that this just ads to the greatness of stand up paddling. I am the luckiest and most grateful person to have Ron and his crew being a selfless, tireless, stellar example of living a healthy life.
Ron Jones has a bright smile to go with his strong, bright heart. You can bet his crew does too. Haven't you noticed that most people who stand up paddle is such a giving posse? Can you simply imagine if more people would "SUP by Example" and be the best human they could be everyday not only on the water but on a busy highway, or while standing in line at Starbucks or when we may catch ourselves judging a person by the way they look, talk or what they drive?
You may night be saving lives and fighting fires like Ron Jones and his fine crew, but you can be your own town's waterway ambassador to everyone you meet on the water or in the parking lot. Share your time, your knowledge, your strength and be the best example you can be you and SUP by Example like Ron.
Mahalo Ron and I look forward to "seeing" you and the crew first thing in the station this coming Monday via SKYPE for a little live SUP coaching rap session. Can't wait!
Suzie Cooney
Suzie Trains Maui
You can purchase my book here: https://suzietrainsmaui.com/new-book/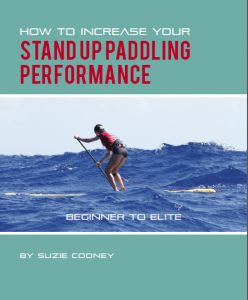 You can also have me training in the same room with you via SKYPE. It's amazing and VERY effective. Click here to learn more and see how I can be your SUP coach too, In full HD streaming from Maui.