Hawaiian Airlines Hana Hou Magazine Featuring
Suzie Cooney on Maui
by Kyle Ellison
photo by Erik Aeder
It's a sincere honor to be featured in this beautiful magazine titled the "Hana Hou!" published by Hawaiian Airlines. I'd like to thank Maui's famed author, AND athlete, Kyle Ellison of the BEST "Maui Guide" includes Molokai and Lanai. Mahalo Kyle!
The feature on page 27 "Native Intellegence" best describes what I do on Maui and around the world as a top trainer of elite athletes and others, who embrace the world the of stand up paddling. It also mentions my years of experience as a Maliko Run guide and downwind coach and professional athlete.
MAUI
Virtual SUP
It's 1 p.m. on a drizzly Wednesday in Lake Oswego, Oregon, and financial adviser Brad Pease is in his office dressing gym clothes, balancing on top of a Bosu ball and paddling in the air with a broom.
His legs are wobbling, and he's winded and sweaty when Suzie Cooney's voice chimes in from his computer to offer some hard-earned encouragement. "that was your best one yet, Brad – wait until you step on a board this season and see how good you feel."
Cooney is nowhere near Oregon; she's 2500 miles away on Maui's north shore, working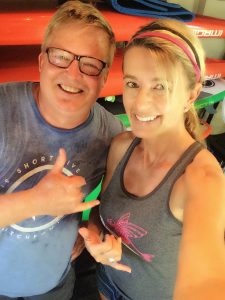 with Pease via Skype from a studio that's stocked with paddleboards. The author of How to Increase Your Stand Up Paddling Performance (a.k.a the "SUP bible"). Cooney is a champion paddler and one of the world's top trainers for stand up paddling fitness. She's also one of the few who teach remotely (Pease originally found her on YouTube). Cooney "travels" the globe to train paddlers from Australia to Brazil who are looking to improve their balance, strength and fitness. She isn't able to pat them on the back (though they do high-five on the screen), but Cooney eventually gets to meet most of her clients when they travel to Maui to reap the rewards of all their hard work.
The ultimate goal for most of her clients is to complete the Maliko Run, a fast-paced nine-mile downwind paddle along the north shore of Maui. The first test is a skills assessment in clam, protected water; Cooney needs to feel comfortable with her clients' fitness level and confident that they've put in the work before setting them free in Hawaii's challenging water. Pease, who is pushing 60 years old and "hates going to smelly gyms to watch other people in the mirror." got the chance to paddle with Cooney on a trip to Maui last spring ( see video below ). While he didn't paddle the Maliko Run, he did catch some waves off Ukumehame. He feels like a "totally different person after a year of training with Suzie," he says.
Now that Pease is back in Oregon, sweating it out on his lunch break, he's optimistic that all of the virtual sessions are going to pay off. "I've gotta believe that by fall she's going to say that I've go the green light."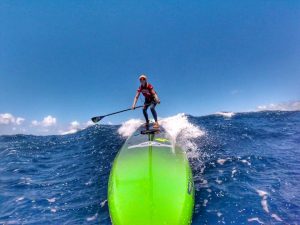 If you'd like to learn more about how you can train with me virtually anywhere in the world, please contact me via this website. Also if you're looking to paddle the Maliko Run one day, please click on this link to learn more: https://suzietrainsmaui.com/maliko-downwind-guiding-instruction/
Thank you for stopping by my blog. I hope that we inspired you.
Suzie Cooney
Please also checkout my new website https://www.malikorun.com