How to Make Hammer Nutrition Vegan Chocolate Protein Power Energy Bites

Made with ease to fuel you with delicious healthy power, these protein energy bites bombs are da bomb with Hammer Nutrition Vegan Protein Chocolate Powder, organic almond butter, organic agave sweetener, rolled oats and I threw in a few milk chocolate and peanut butter chips.
I'm not one to cook or spend time baking but these bite size, energy bites make your taste buds go "wow" and your body go "pow." Sorry couldn't resist because I'm so excited how easy these were and how long they sustain me with healthy energy.
I eat one before I paddlesurf, go for a downwider or ride bike or workout. They also make a great in-between meal snack so you don't crash.
** If you have yet to discover the awesomeness of Hammer Nutrition products enjoy 15% off your first order via my athlete code: 298280 You'll also receive welcome gifts for your first time. Their customer service is THE BEST. Their products keep me fueled. HAMMER NUTRITION
Ingredients:
2 ½ scoops (almost a cup) of Hammer Nutrition Vegan Chocolate Protein Powder (or regular)
1 C organic almond butter (salted or unsalted)
½ c of organic honey or agave sweetener
1 C of rolled oats – I prefer Bob's Red Mill but all I could find were these
(optional) ½ c chocolate and peanut butter chips
Prep Time: 10 minutes
Cook Time: No bake–refrigerate for 1.5 hours
Total Time: 1.5 hour, 10 minutes
Directions:
Mix almond butter and your choice of sweetener in a pan on the stove over medium to medium low heat until blended.
Put the above mixture into a mixing bowl and add the Hammer Nutrition protein powder and turn and blend, mix well. Then add oatmeal and mix well again. (If you have an electric mixer, be careful not to over blend)
Take a heaping tablespoon full of the power ball mixture, roll into ball about 1.5in size with hands and place evenly on un-greased cookie sheet.
Every other ball I rolled in oats. Your choice.
Refrigerate for about 1.5 hours. After the protein balls have set, remove from fridge and store in an airtight container. These last about a week and you can also free for later!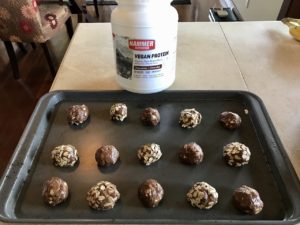 Please give these a try and leave a comment below. Share with your friends too!
Please take care of yourself and keep fueled.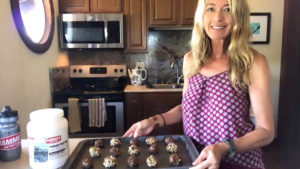 Suzie Cooney
Suzie Trains Maui, LLC
Follow me for more cool stuff on INSTAGRAM and FACEBOOK:
https://www.instagram.com/suzie_cooney/