Keep Paddling Strong All Year Round Off Season SUP Training Tip
Here in the U.S. we are still in the heat of the summer and well on Maui we don't notice much change. If you'r worried about your off season SUP training, worry no more. This is the time of year I start to get panicked emails with the same burning question, "what am I going do when I can't paddle?" Also, "how can I keep my shoulder muscles strong and not completely stale if I can't get on the water?" Do I have a solution for you that's inexpensive and simple.
So just the other day I dreamed up this concept that got me thinking about golf and baseball. Don't ask they just come to me out of the sky. I know there is no true comparison to SUP, except the possibility of one thing, weighted practice swings. Why not implement the same for your stand up paddle stroke and weight the stroke on land while training during the off-season?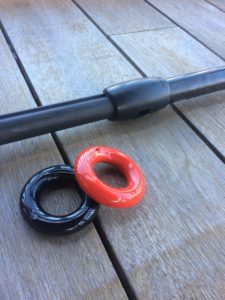 I boogied down to our local golf shop and found a couple of the rubber circular weights you put on the base of the golf club shaft near the head of the club and wa la… boom. As I came in with my half paddle, the guy in the shop looked so perplexed and I can only imagine what he was thinking. Luckily I used to play a lot of golf so I threw out some golf lingo just to make him feel at ease.
It worked! You can actually place one-five of these 5 ounce (.31lb ) rubber rings around the shaft of your paddle. The diameter of each rubber ring is 1.4" inner diameter and 2.2 outer. So what I did is take and old busted adjustable carbon paddle, sanded the rough edges and capped off the broken end with an old windsurf mast topper. Then I simply put one ring right at the insertion place where you clamp the shaft into a secure position. I was stoked and it worked.
As a professional trainer, the very first thing that comes to mind, shoulder stability and safety and to make sure I address this immediately. Luckily these are light weights but just enough to keep the shoulder girdle loaded with just a little bit of weighted stress. This will help with your flexibility and strength and simply keep all of the muscles you use in your stroke primed and fluid. Think of keeping the oil in your car, the pistons and push rods, fresh and moving throughout the engine. ( sorry I was a mechanic for a short stint in my other life ).
NOTE of caution: Keep in mind that if you have any type of shoulder or neck issues you might discuss this exercise with your doctor. I HIGHLY DO NOT RECOMMEND that you add more than 10 of these rings thinking "more is better." That's not the training result we're after. (learn more below)
You can now introduce this to your workout. It's super simple and you can add many of the variables just to make it more fun and interesting. (My book How to Increase Your Stand Up Paddling Performance, Beginner to Elite, is still the top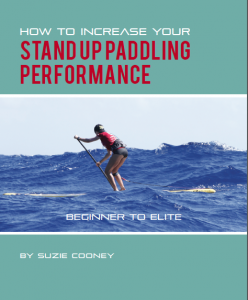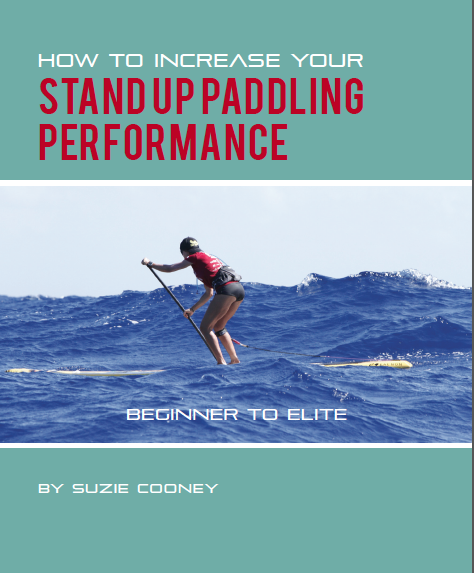 selling training book and there are lots of examples in there that you can draw from. Or check out some of my training videos SuzieTrainsMaui.com ).
Just a few examples: Number of weighted rings can vary. I like the feel of 2-4 of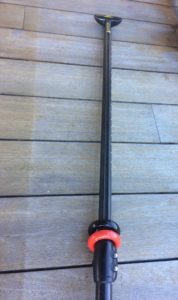 them. Guys may need a few more. You can increase as you increase your sets.
Just standing on the ground, you can time yourself or count strokes on one side or take alternating strokes. Maybe one minute alternating, then 10 left side then right x 3 sets, rest repeat. 2-3 sets
Do the same above but add some balance variables such as:
Kneeling on a stability ball
Stand in surf stance on your IndoBoard Pro Kicktail Board on top of the 24" Gigante cushion
Squat stroke combo: stand on a BOSU and for each stroke add a squat or for each alternating 2 strokes add a squat, or any combo you like.
The key here is muscle memory and not to do this exercise too much so that you cause too much strain. I always say "light and easy" to be fast and stealth.
You can also take these wrings with you if you're traveling to races or other events and it's a nice way to do a quick warm up before the race or if you're stuck in your hotel a few days and can't get on the water.
Getting creative is super important in your training and that's what I'm really good at in helping people maintain their freshness, especially during the off-season when the boards go into hibernation. Doesn't mean you have to too.
I hope you'll share this article with your friends and keep your paddling stroke strong all throughout the year. If you'd like help with some training I'm worldwide via SKYPE it's fun and really effective. Don't let your body go to mush so you can come back next year even stronger! Love to help you.
Any thoughts or other ideas we'd all love to learn. Please leave a comment on this blog post.
Aloha & Mahalo for having me in your corner as your SUP professional and friend.
Suzie Cooney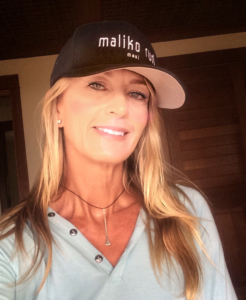 Please also check out my other website and get your cool Maliko Run™ downwind gear. We just added 6 new epic styles