SUP on the Ocean Is Trending Wall Street Journal
Quotes Suzie Cooney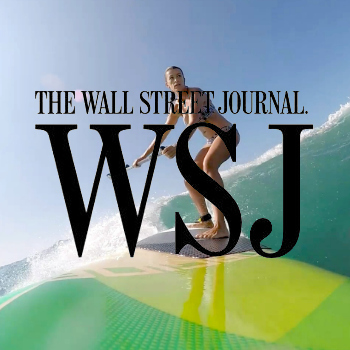 SUP on the ocean is definitely trending and I'm sure now a few more Wall Street Journal readers will be now be catching the wave of fun too.
September 26, 2016
You can also find the article online here: https://on.wsj.com/2cQ3oZn
Paddleboarder's Next Step: SUP on the Ocean 
Paddleboarding on waves requires different strengths and skills, including mobile footwork as you catch the wave
For paddleboarders, the transition from calm lake to ocean waves is like the shift from treadmill jogging to trail running: It takes some getting used to.
"Moving from lake paddling to ocean involves an entirely different requirement of skill, knowledge, strength and equipment," says Suzie Cooney, a personal trainer based in Maui and author of a book, "How to Increase Your Stand Up Paddling Performance."
There are different boards for different types of waves when paddleboarding in surf, or SUP surfing. And then there's SUP racing, which utilizes boards that don't ride waves well at all but go fast in rough water or smooth. The longer and thicker the board, the more stability it will have on lake or ocean.
"Having someone show you ocean water safety is always the first step," she says. "You're playing on a large mass of water moving at different currents, wave heights and swell."
On calm water, the typical stand-up paddling stance involves standing with feet less than shoulder-width apart, and they don't usually move much. In the ocean, Ms. Cooney says you want to be in a surf stance: Feet are shoulder-width apart and staggered; they shuffle toward the back of the board as you catch the wave.
"Footwork is very important to master," she says. "I have newbies practice this transition on flat water many times before we get out onto waves."
Paddling anywhere is a full-body activity that works the glutes, lower back, abdominals, obliques and pelvic floor, Ms. Cooney says. Core strength is even more important on the ocean. She suggests balancing on one leg on the ground and then adding a small squat and repeating, five to 10 times on each leg, to help build core stability. Since paddling is a repetitive upper-body motion, she suggests simple resistance-band exercises, such as bent-over rows, which mimic the paddling motion, to build strength and endurance.
….
I couldn't be more happy to be a valued resource and to encourage others to enter the ocean safely and with extra care. There is much more to ocean SUP surfing for sure. Make sure you know the rules of the break, know how to manage your board when wiping out and don't go out when in doubt. 
Suzie Cooney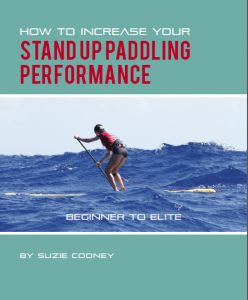 For a signed copy of my book, "How to Increase Your Stand Up Paddling Performance, Beginner to Elite;  which is touted as the SUP Bible and the most comprehensive resource out there to help you increase your SUP strength and performance; click this link to get yours here: https://suzietrainsmaui.com/category/book-news-and-updates/  Or on Ibooks:

If you want an elegant download version for iPad or iPhone, click here: https://itunes.apple.com/us/book/how-to-increase-your-stand/id1038190395?mt=11&ign-mpt=uo%3D4