Watch Webinar Setting Up Your SUP Mental Strategy with Suzie Cooney for Paddle Monster
SETTING YOURSELF UP FOR SUP SUCCESS FOR ALL LEVELS OF PADDLERS—
YOUR MENTAL COURSE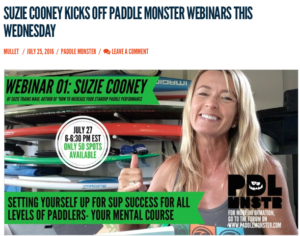 Special guest, Suzie Cooney.   Watch below.
Setting up your SUP mental strategy is really important. You can train on the water and train in the gym for a successful season, but what is your mental training or  mental set up look like? How do you manage equipment failure, changing conditions, body failure or worse, mind failure?
Brought to you by Distressed Mullet and The Paddle Monster with Larry Cain 
Mahalo everyone for joining us today. Your questions were great and I hope that you found the webinar helpful and informative. Remember, preparing for a SUP race, your first or 20th; requires mental preparation, a mental course map, clarity, having a plan for the unexpected and so much more. Learn how to manage stress, changing conditions, board and equipment failure. Discover why it's important to surround yourself with the right paddling group.
Challenge yourself mentally to keep it all together when things don't go as planned. Know that you are a not alone out there on the water. It takes more than physical strength to be successful as a competitive stand up paddler.
Watch here now:
Thank you for watching and please feel free to share. You can also learn more about how to have a mental strategy from chapter 7 of my book touted as the SUP Bible, How to Increase Your Stand Up Paddling Performance, Beginner to Elite.
Get yours here
, also available on iBooks. Also check out
Distressed Mullet
and the
Paddle Monster.
See you on the water! Suzie Cooney