This past Sunday night, we celebrated Phil's victory and watched race videos of Phil's other race in Milan ( just a week after the IRONMAN )! With us, his girlfriend Sandra, Matt and Erin Pritchard and mascot, 145lb Rhodesian Red, Simba. Phil was in great spirits and still on a high. His medal is pretty cool. Suzie
Matt & Simba
 "The first hill is called "THE BEAST", just before the hill I hear my name being yelled out loud many times, I look across and see that it's the kid from yesterdays "bike check in" with his Mom, the windsurfers, I throw up my arm with a closed fist, pump it in the air, then look forward again preparing my mind for the first ascent."



Moving onto the bike:I
get up onto the flat section with carpet under my feel so I move into a slow jog with the rest of the herd. At my bike the wetsuit is pulled off quickly, toss water on my feet to wash off the sand and on with the bike shoes, drink bottle into the back of the shirt, powerbars into the back of the shirt, Helmut on and I'm out of there.  I run with my bike out of the bike area past the "mount line", jump onto my bike, clip in my shoes and start pedaling like a mad man. Now the same people who were swimming next to me are on their bikes, so it's just as scary heading out the small road from T1 towards the main road to Frankfurt. About ½ mile past the T1 there is an ambulance with paramedics all around, a biker has already fallen and hurt themselves, not good, what a shame. I don't want to fall, so I sharpen my senses and keep a look out for other riders around me until we move out onto the main highway to Frankfurt city.
I turn on my heart rate monitor, turn on my "cateye" (which tells me my time, speed, cadence and distance). I take a quick peak down and see 152 on my heart rate monitor, holly crap, I've got to get that down. My speed is 21 MPH, that is fast too, so I start to breath, deep breaths, slow my speed to 19 mph, now my heart rate is dropping slowly, 148…………..144…………..142, it's not moving from 142 so I figure I'll give it more time because I don't want to slow down anymore. The road is beautiful and smooth, the morning air is still crisp, I'm comfortable, the legs are feeling good, no sign of the calf cramp anymore, I'm now on the Ironman bike leg, 112 miles to go.
We enter the busy streets of Frankfurt after about 20 minutes of riding, I see 138 on my heart rate monitor, that is better……Hundreds of people have lined the streets and are already cheering, waving banners, officials with flags pointing us in the right direction.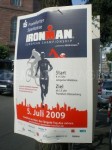 I have my first gel and gulp of water. The whole bike course is closed to traffic but you still need to pay attention to which direction to turn. I move into the center of Frankfurt and head across the Mane River and towards the first hilly section in a small town to Maintal.
The first hill is called "THE BEAST", just before the hill I hear my name being yelled out loud many times, I look across and see that it's the kid from yesterdays "bike check in" with his Mom, the windsurfers, I throw up my arm with a closed fist, pump it in the air, then look forward again preparing my mind for the first ascent. It's about a 1 mile up hill, but enough to get my heart rate up over 150 again, the legs are still strong and fresh so I push up no problem. Before the top I see a competitor in front of me struggling. Everyone has their names on their race bibs which are on the backs of your bike shirt, so it's easy to spot the competitors names. I yell, "come on Heidi go girl, you are almost there", I go past her and she yells back, "thanks, go phil". Now that is the spirit of the race, it's good fun to chat to competitors, but it's hard to do on the bike course.  Anytime you hear your name it's up lifting, so I often give a "good on ya" to the competitors close by, I figure it will come back to me later in the race.
Most of the bike course is through small villages/towns so it's quite technical. The next hill is called, "THE HELL", it's all cobble stone for about 500 yards and it's lined with thousands of people (tour de France style). This is not that much fun, it's scary because you think your bike is going to fall apart, vibrating as you pedal up hill on the small stones. I see water bottles fallen on the street, competitors actually off their bikes walking. I hit the top of the hill, a few people are off their bikes looks like they are fixing flat tires, Dam, I came out of it with no damage, except a skyrocketing heart rate, which can be fixed on the down hill immediately after the HELL. I had so many flats riding in Maui I'm a little paranoid about getting a flat tire now, but I changed my tires before coming over to a new specialized "all condition" tire, which so far hasn't flatted on me in 3 weeks of riding, so fingers crossed.
The legs are still feeling fresh but I'm only 35 miles into the bike leg. There's people all around so it's good fun to see everyone out there all doing the same thing, feeling mostly the same things happening in the body and just working on getting through the 112 mile course. I'm on a good schedule with my nutrition, every 20 minutes I take a gel and water, but my stomach isn't feeling that great at the moment, in fact I'm feeling sick and wondering if it's going to get worse or better. I stop to take a pee at about mile 39 and then I start to feel better. I decide to switch over to powerbars instead of the gels, they seem to give me more power and I feel better after eating a solid instead of the liquid gel. My stomach ache goes away, so it looks like I figured that out, now back to the pedaling.
The big hill before heading back into Frankfurt town center is called, yes you can imagine, "heart break hill", it's about 1.5 miles of a good uphill climb, but assisted by thousands of spectator and one aid station near the top. I power up the hill no problem and enjoy all the cheering and yelling……the Germans are really supportive, while we take over there little villages for the day. I near the top drop into the aid station and ask for water, no I didn't stop, but grab it as you ride by and stick it anywhere you can. I fill up my waterbottle on my aero bars and throw the bottle away towards a volunteer.
After this monster climb it's downhill for 8 miles into Frankfurt, not a steep downhill but enough to get up some good speed and give the legs a bit of a rest. This is best part of the ride, downhill to Frankfurt and past Transition 2/finish line area…….the crowds are the thickest at this part of the course, a great feeling as I pass the finish line area and the first loop is complete.  I take a look down at my cateye and it reads 56 miles. The legs are starting to get heavy and sore, I've been riding now for over 3 hours at around an average of 18 MPH or close too.
Lap 2 can't be bad because once you ride the course once the time will pass more quickly the next time around. I hit the hell again, but it's not like last time, now there is less people and my legs are burning as I reach the top. This is my first Ironman so I have no idea about going the full distance after the swim and bike, then getting on the legs and running a full marathon. I can feel my legs getting tied but they only get to a certain point and then it doesn't get any worse. I actually start to feel better around mile 85 and keep thinking…."now it's 37 miles until I get my butt off this seat". I'm looking forward now to getting up over Heart break hill and rolling into Frankfurt into T2. Going up heart break hill I can feel the legs are drained of that fresh energy but they seem to be able to push pretty hard up the hill. I hit the top and yell out a "Yeahhhhhhhh". It's easy from here, I hit Frankfurt with some good speed, now the adrenaline is kicking in getting my head ready for the long slog on my legs for the 26.2 mile marathon. The transition area looms quickly, I reach down and pull my feet out of my shoes and rest them on top to prepare to jump off my bike. I reach the dismount line, step off my bike which disappears with a volunteer. I see my bag hanging with my race number, I grab it, another volunteer starts to direct me to the change tent, I'm running at this stage, but only slowly, but I don't care because I finished the bike portion and now getting onto my legs for the biggest challenge of my life.
 Thanks Phil for sharing and inspiring! You are simply amazing and a wee bit crazy!!  Suzie
Check back to see the final journal entry: The Run!
poster image provided by www.demotix.com