August 28, 2010  Maui, Hawaii
Anyone who has had the luxury of visiting or living on Maui, can only describe the beauty of the ocean. Having the opportunity to experience it, play in it,  and making it a part of one's healthy lifestyle, one can only be so fortunate.
Once again, I had the pleasure of meeting some fine women of Maui who joined me in this experience. These women charged on the water and did it with confidence, grace and power.
Stand up paddling   ( SUP ) offers all of that. Today we also had a surprise, a small pod of curious dolphins!  Rarely do I see them so close in and it really made for a memorable experience!
Meet Jenn, Peggy, Stacey, Monica, Janet and Amanda.  What a cool group of gals. Of course we laughed, splashed and tried a few moves on the board that caused a few grunts  ( Stacey….. 🙂    ).  What I also thought was great, is that we traded boards now and then to feel the different types of board that offered new challenges. Some boards were less stable, some more.   Their paddling strokes by the end of the hour were very impressive.  I had a stubborn droplet of water on my camera, so sorry for the blurry photos!
Thank you, thank you, thank you Suzie! Saturday was an amazing day for me. I was definitely apprehensive about my capabilities. I have terrible balance, but I really wanted to learn a sport that would let me enjoy the ocean. Your instruction and encouragement gave me the confidence to try and I had so much fun (even if I did spend more time in the water than everyone else)! I now feel confident in learning the basics and I know that I can easily get back up when I fall. Enjoying the peaceful morning with a great group of women and seeing dolphins made the experience that much more special. I can't wait until I can go out again! Thank you again, you really are an inspiration! And also thank you for the goody bag and to your wonderful sponsors, Naish, OluKai, and the American Heart Association, who so generously donated to our goody bag.
P.S. I didn't want to return my rented board without getting a bit more practice. I met my husband and we went to Wailea Beach. I showed him what I had learned and then he too gave it a try. He's not much of a water person but he shared my enthusiasm and so next time we'll rent two boards and practice together. My goal is to purchase boards and make this a regular part of our life. And hopefully, inspire my daughters too! Thank you.  Peggy, Kula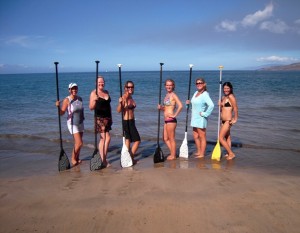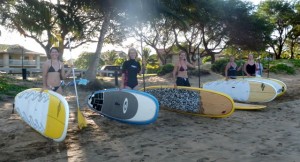 Wow! Thank you so much for the AMAZING and INSPIRING free women's SUP clinic you held today. With absolutely perfect weather and your constantly cheerful and encouraging attitude it could not have been any better.  We were greeted by lake like conditions and Suzie's contagious zest for life.
Starting it off with helpful safety tips and a little basic SUP 101 we were off! It's amazing how much more confidant I was entering the water today after getting some tips from a real pro.Once we were out and up, Suzie paid careful attention to each and every one of us individually as well as collectively; and continued to coach and encourage us all.
By tweaking my stance on the board as well as my grip on the paddle, I instantly felt the difference in how much more control I had. We were graced by rays, turtles and even dolphins today as the 7 of us gained confidence and skills that we can build on for a lifetime of fun and health with SUP.  To top it all off, we were greeted by fantastic goodie bags awaiting us on the beach.
Thank you to all of Suzie's sponsors for supporting us in trying something new and motivating us to keep doing it!
Suzie never fails to brighten my day and get me excited about health, fitness and water sports.
Your uncanny ability to wipe out fears and build self esteem is so rare and so appreciated.
After today's SUP clinic I am definitely hooked!
Thank you Suzie for all you do for us and our community.
With love and aloha,
Amanda Jones
That was the most fun I have had in a long time! What a great group of women, with an amazing person leading us. I was a little nervous at first, but felt so safe with Suzie. I learned all the in's and out's of SUP'ing, from getting the board off the car, to carrying it; from entering the water to the right moment to stand up….it was everything I had hoped for, and so much more. I learned about water safety, different ways to paddle, even exercises to do while hanging out on the flat-water ocean! I left the clinic with a sense of confidence and empowerment that just fills my heart with joy. Thank you, Suzie! I felt so confident that I went straight home, got my son, and took him SUP'ing, by myself! And there was another gal from our clinic, out with her family, too. Big smile over here. Best weekend ever. The dolphins were a sure sign that learning SUP is the start of a positive, new adventure for all of us!
Thanks so very much, Suzie.  Jenn
Thank you for such an incredible morning on Saturday!  The clinic far surpassed any expectations I brought with me.  I've always wanted to try SUP yet never felt it was a sport I could try on my own. Your clinic gave me the opportunity to learn something new in a supportive environment and I can't wait to get out on the water again.
I now feel empowered to not only get out on the water but strap down the board on my car too!  From the tips on safety to skill, I feel more confident to begin the journey of SUP. Being able to experience this new-found joy with such a fabulous group of women was a blessing, and yes, the dolphins were icing on the cake!  Beautiful!
I'm now looking forward to all the possibilities the future holds for me and SUP.  I hope to find a group of people I can regularly enjoy the sport with and hone my new skill.  My sincerest mahalo to you, Suzie, for the opportunity.  You made me feel so incredibly comfortable in a situation I slightly feared.  Your knowledge, enthusiasm and instruction is amazing!  You inspire me.
With Warm Aloha ~ Monica
Thank you very much for taking the time out of your busy schedule to put on these wonderful clinics.  It is inspiring.  I appreciated your water safety and SUP safety tips.  It was very helpful.  You create such a positive environment that we all felt so encouraged and empowered.  Thank you!  Thank you also for the generosity of your sponsors.  I am in love with the 9'5 Mana board that Coach at Naish suggested for me.
To have dolphins visit us?  What a treat!  Again, due to all of that positive energy you created for all of us!
I am wondering if you would consider teaching a class on how to surf with stand up paddle boards???  Please?  Janet Iwata

I hope these women inspire you! Take charge of your health and find a sport that you enjoy. You too CAN be healthy and fit!

A special thanks to the Naish Maui Pro Center, OluKai Premium Footwear,  and the American Heart Association for filling our goody bags.
If you'd like to meet some new friends, enjoy an evening under the stars and moon, come join the fun, September 22, 2010 Wednesday for a Full Moon Paddle.  Click here, to see photos of the last evening of fun. Events: https://suzietrainsmaui.com/events-clinics/
Aloha,
Suzie Cooney, CPT     Suzie Trains Maui
808-283-2121    e: https://suzietrainsmaui.com/contact/